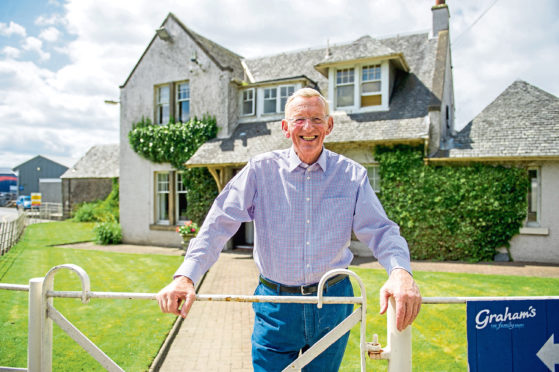 Graham's The Family Dairy has grown from its humble beginnings as a cow and cart milk round in Bridge of Allan to the number two food and drink brand in Scotland, second only to Irn Bru.
As the company celebrates its 80th anniversary, company chairman Robert Graham reflects on its growth and plans for the future.
The company now has a 300-cow herd of pedigree Jersey cows and 105 farmer suppliers from all over Scotland, and one in Penrith.
"The farmers that supply us are all specifically selected," said Mr Graham, who works alongside his wife Jean and the couple's family, Robert and Carol.
The company's main base remains at Airthrey Kerse Farm in Bridge of Allan, and it also runs processing plants in Nairn and Cowdenbeath. The company's product range has expanded significantly over the years and comprises everything from liquid milk, cream and butter, to yoghurt, ice cream, cottage cheese and quark.
---
Courier Farming is now on Facebook
---
To commemorate the firm's anniversary this year, and to meet customer demands to move away from plastic, Graham's has launched a range of glass milk bottles from its Nairn processing plant. These are available for home delivery or through various retail outlets.
Looking to the future, Mr Graham says the family is still pursuing planning consent for a housing development and £20m new dairy facility at Airthrey Green on the outskirts of Stirling.
And while expansion plans are on hold, as the planning process continues, he says continuing to develop new products and growing the domestic customer base is key. The firm is the main Scottish supplier to Aldi, Lidl, Spar, Starbucks, Costa and Caffe Nero.
When asked if he was concerned about the continued decline in Scottish dairy herd numbers, and the prospect of crashing out of Europe without a deal, Mr Graham remained upbeat and optimistic.
"The ones (dairy farmers) that are staying in are getting larger and there's still people getting into dairying," he said.
On Brexit, contrary to the views of his peers in other sectors of agriculture, Mr Graham sees no deal as a huge opportunity as the introduction of tariffs could put the brakes on dairy imports to the UK.
"It would be the best thing for the dairy business that would happen," he said.
"Britain is the largest importer of dairy products in the world, other than China. We have all the conditions to produce more."
The catch, however, according to Mr Graham, is the lack of processing facilities in the UK – a case he and his family will be arguing when pursuing planning for their new dairy plant.