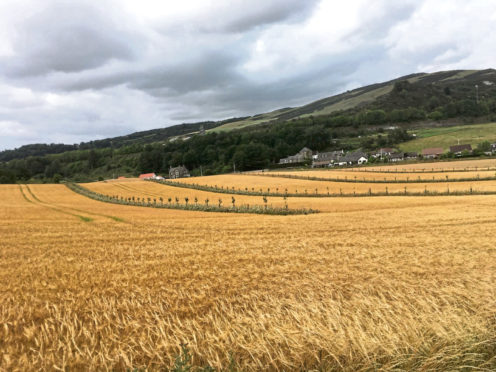 Practical advice on agroforestry will be on offer to farmers at two events in Fife and Perthshire later this month, with Midlands arable grower Stephen Briggs sharing his experience of combining crops and trees.
Soil Association Scotland, which is organising the meetings, points to the experience of Fifer Roger Howison of Parkhill farm, who is already planting barley and apple trees together in a "silvoarable" system. He planted grass while the apple trees were establishing, then barley for two years, followed by two years of grass.
"The driving idea is a mixture of arable crops and apples that will be biodiverse, mutually beneficial, in that the trees will give some shelter to the crops, and give fruit as another commercial crop," said Mr Howison.
Meanwhile, Andrew Barbour at Mains of Fincastle, near Blair Atholl, is farming livestock alongside trees.
"Cows are very happy in woodland.They are woodland animals. It's only us that has penned them into fields. They use trees for so many of their needs, from resting and scratching through to browsing. From the animal point of view trees are good," he said.
"Use of woodland as shelter has allowed us to keep more productive sheep in places that wouldn't otherwise be possible and that has meant better financial returns."
Mr Briggs, a Nuffield scholar, was one of the first UK farmers to adopt agroforestry.
He said it was because he wanted to protect his soil.
"I wanted something that fitted in with my farming system and provided me with an income," he said.
"I'd seen agroforestry in other temperate regions of the world and it ticked the boxes of increasing productivity and biodiversity and protecting soil from wind erosion."
The first event, on September 25, is at the Tayside Institute, Newburgh. The second event is on September 26 at Blair Atholl Village Hall. Scottish Forestry and the Woodland Trust Scotland will be on hand to discuss funding and the management of existing woodland. The event is free and lunch is included but booking is essential.
Call Jane on 0131 370 8150 or email jdingwall@soilassociation.org
nnicolson@thecourier.co.uk