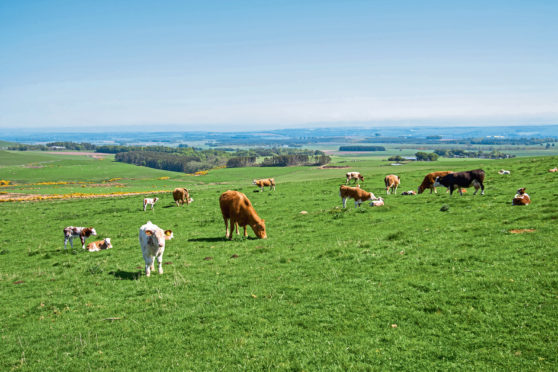 Farmland has come on the market at the foot of the Angus Glens and in Glendevon in Perth and Kinross.
Balquhadly Farm, which extends to 138 arable acres, 176 acres of permanent pasture and 30 acres of grazing and woodlands, overlooks Strathmore and is described as a self-contained livestock unit by selling agents Savills.
The land is graded predominantly Class 3 (2) and at capacity it is capable of stocking 100 suckler cows and 300 sheep.
The land has also been managed for conservation and sport, and until recently 500 pheasants were put down each season to provide around six days' shooting.
Farm buildings comprise part of the original stone steading together with modern additions and purpose-built sheds.
Evelyn Channing of Savills, who is handling the sale, said: "Despite the challenges currently facing the livestock industry in Scotland, we anticipate interest from both existing livestock and arable farmers alike who may recognise the opportunity to expand or diversify their businesses.
"The indications are that future support in the agricultural industry is likely to be linked to environmental payments and in that regard Balquhadly may be particularly well placed to benefit.
"The farm is also likely to appeal to lifestyle buyers, given the relatively easy access to the A90 and the glorious setting which the farm enjoys."
Balquhadly comes with a price tag of offers over £985,000.
Meanwhile, land agents, Galbraith has launched a productive block of 141 acres by Glendevon on the market, comprising pasture and hill ground which selling agents Galbraith say would be well suited to a new commercial forestry enterprise – subject to obtaining the necessary planting approval.
The company's agent, Harry Graham, said the hill ground was leased for grazing on a seasonal basis, but added: "We anticipate that the land will appeal to forestry and local farming interests but also other amenity-type purchasers who are keen to enter the market for larger areas of grazing and hill ground."
The land, which is east-facing, is classed as a mixture of Grade 5.2 and 5.3 and it is accessed via a number of field gates located to the south of the holding, which lead off from a private road.
A telecoms mast on the ground, currently leased to EE until January 2036 generates an annual income.
The property is for sale as a whole at offers over £180,000, with the land priced at offers over £140,000 and the Telecoms mast, offers over £40,000.
nnicolson@thecourier.co.uk