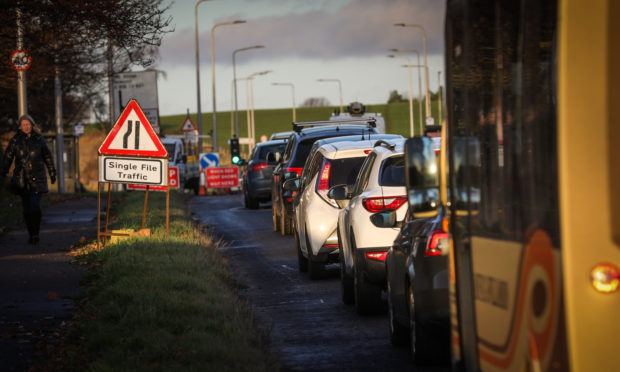 Roadworks at Guardbridge have been causing misery for drivers.
Temporary traffic lights were kept in place for longer than scheduled on Tuesday after part of the carriageway collapsed, forcing engineers to complete emergency repairs.
It added to delays for travellers during the project to resurface a stretch of the A919 between Guardbridge and Leuchars.
Stagecoach East Scotland apologised to passengers after the works caused disruption to bus services.
Delays at Guardbridge/Leuchars are now back at 20 mins. All services are delayed. Apologies yet again

— Stagecoach East Scot (@StagecoachEScot) December 4, 2019
The bus firm took to Twitter on Wednesday to tell passengers: "Delays at Guardbridge/Leuchars are now back at 20 mins. All services are delayed.
"Apologies yet again."
The traffic chaos coincided with graduations at St Andrews University.
There were also reports of school children being late for classes and commuters struggling to get to work in time.
One irate motorist challenged Fife Council on social media over the planning of the works.
He said: "What is the point in having the works take place only from 9:30am to 3:30pm if temporary traffic lights are in place at rush hour anyway? Why not work longer hours and get the work done quicker if we're to be inconvenienced?
"What is the point in the traffic management van if the lights are not being manually managed and the man inside is simply watching a three mile queue on one side and literally no queue on the other. Are our taxes paying for him to twiddle his thumbs?"
The council advised him to make a formal complaint through the authority's website.
Council technician engineer Brendan Stenzel said:  "The toll road junction is set to be closed for one week, as planned.
"The temporary traffic lights are typically in operation Monday to Friday 9.30am to 3.30pm.
"The lights were in operation last night, due to an unforeseen void appearing in the carriageway that required repairs and needed additional time overnight to attain the requisite strength.
"This was a measure to ensure the safety of road users. They are now operating as planned."
Labour councillor Altany Craik, who is convener of the council's economy, tourism, strategic planning and transportation committee, said: "Any disruption is unfortunate.
"Nobody likes to be held up in roadworks. We absolutely understand that. That's why when we are phasing these works we do the best we can to complete the project as quickly as we can and minimise disruption."
The council is carrying out carriageway resurfacing on A919 from Toll Road, Guardbridge, to the 30mph limit signs on Station Road in Leuchars.
The first phase of the work will mean the junctions at Toll Road and Main Street are closed for the rest of the week, with no access to the A919 from these roads.