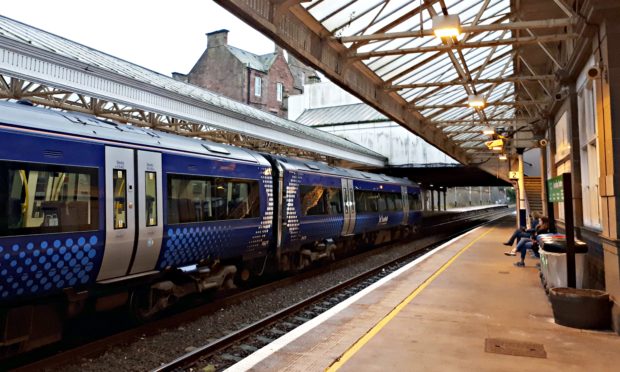 Angus Council is to take Scotrail to task over late trains which have left local stations near the bottom of Scotland's punctuality league.
In the wake of figures which put a trio of local stops low down the order for on-time services, elected members have agreed to ask the authority's chief executive to press for "urgent improvements" for local passengers.
Forfar Conservative councillor Braden Davy's motion to the final full council of 2019 highlighted Office of Road and Rail figures which placed Arbroath, Carnoustie and Montrose in the country's bottom ten stations.
"The figures showed that Arbroath had the third worst punctuality in Scotland at 75.1%, Carnoustie had the sixth worst delays at 78.2% and Montrose was ninth worst at 80.4%," said Mr Davy.
"How can we expect people to choose green forms of transport if it's unreliable?
"Angus has been under-served by Scotrail and these figures show the services do not adequately meet the needs of Angus residents and businesses.
"Excessive delays cause problems for businesses and commuters.
"Angus Council aims to become a go-to area but this under-performance impacts our ability to do that and how much lost council tax or global tourism spend does it all add up to?"
Council finance spokesman and Kirriemuir Conservative councillor Angus MacMillan Douglas added: "We have had fantastic success bringing business to the Montrose area and to find it is the ninth worst is a disgrace."
Councillors unanimously agreed the motion which will see chief executive Margo Williamson write to both the head of Scotrail and Scotland's transport secretary pressing for reliability improvements.
Carnoustie SNP member Mark McDonald said: "It is not to excuse the performance figures, but let's not blame the Scottish Government alone because the Angus situation is not straightforward and simple.
"There is a single stretch of line at Montrose and if that's a problem it is Network Rail – this is a train track run by three different strands," he said.
A Transport Scotland spokesman said: "We understand passengers' frustration and that is why we are working with the ScotRail Alliance to help bolster performance in the months ahead, whilst recognising weather conditions will play a part. This approach will help improve Angus services, as will other measures specified in the remedial plan.
"More than half of the delays in the last rail period were attributable to Network Rail. We fully expect them to improve their performance, and reiterate our calls for accountability of Network Rail to sit with the Scottish Parliament.
"Overall rail performance in Scotland is showing steady signs of improvement, proving that our record investment in the rail network is starting to pay off.
"The staff responsible deserve praise for their hard work, however we know there is no scope for complacency and there is always room for further improvement."
A Network Rail spokesperson said: "We are working hard alongside our industry partners in the train operating companies to reduce delays and drive up punctuality across Scotland's railway."
Scotrail said timetable changes coming into effect at the end of this week will see more direct journeys from Aberdeenshire and into Angus between Inverurie, Stonehaven and Montrose.