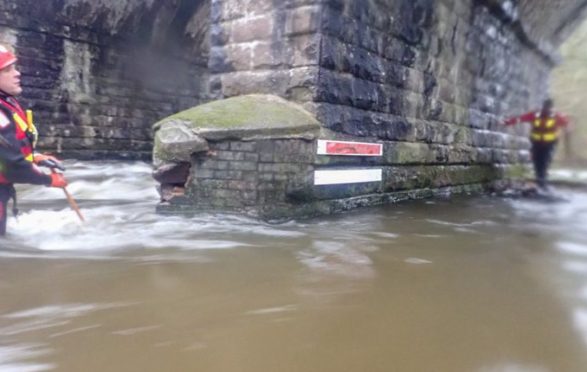 A Perthshire railway line has reopened almost two days after being forced to close due to flood damage at a major crossing.
Trains between Perth and Stirling were cancelled from Sunday night into Monday as the Mill O'Keir viaduct near Dunblane was assessed by engineers.
River levels had surged on the Allan Water across the weekend as Perthshire was battered by heavy rain and snow.
Network Rail were forced to close the line between Perth and Stirling on Sunday after engineers discovered damage on one of the crossing's piers.
Specialist divers were called in to assess the level of structural damage to the bridge. They had to wait until water levels reduced before examining the viaduct late on Monday.
Perthshire railway line closed as 'sheer force' of flood water damages major crossing
On Monday morning Network Rail confirmed the line had been reopened.
A statement posted to Twitter read: "Last night we ran a proving train between Stirling and Perth which was successful. This means the stretch of track between Perth and Stirling is once again open.
"Thank you for your patience. Please contact your train provider for service information."
Only minor repairs are required at the viaduct.
ScotRail added: "Great news! Thanks to the team at @NetworkRailSCOT
for their hard work.
"We're now able to run trains through Perth/Stirling again. Thank you to our customers for their patience and understanding. We appreciate it."
ℹ️ Last night we ran a proving train between Stirling and Perth which was successful. This means the stretch of track between Perth and Stirling is once again open. Thank you for your patience. Please contact your train provider for service information.

— Network Rail Scotland (@NetworkRailSCOT) February 25, 2020
Great news! Thanks to the team at @NetworkRailSCOT for their hard work 👏 We're now able to run trains through Perth/Stirling again. Thank you to our customers for their patience and understanding. We appreciate it. https://t.co/F8NKtMd4UK

— ScotRail (@ScotRail) February 25, 2020