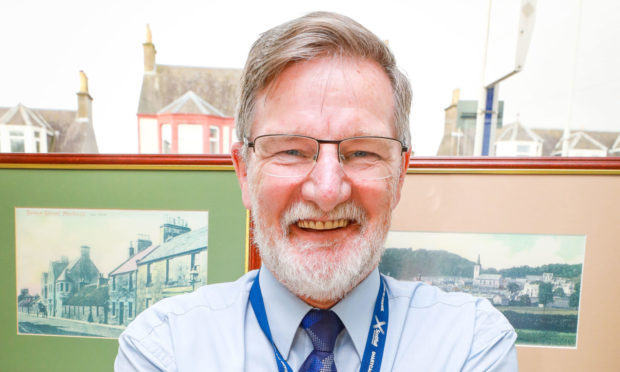 A Fife rail worker's offer of help to customers struggling due to the coronavirus pandemic has won the hearts of hundreds of people.
Colin Reed has been named ScotRail's employee of the month for placing a thoughtful message at Markinch Station in March which offered support to locals during the health crisis.
He said he would keep in touch with elderly or single people who required help by calling them twice a week – and offered his phone number to those who needed assistance.
The message reads: "Should any of my customers (single or elderly) wish to give me their name, address or phone number, I will keep in contact with them twice weekly.
"If not, please take down this phone number and you can phone me if you need to."
An image of the message was shared by journalist Alasdair Clark on Twitter and picked up hundreds of re-tweets.
This melted my heart. Colin at Markinch train station offering to check in on his elderly customers during #coronavirus. Give him a medal @ScotRail pic.twitter.com/d5NhV4vUYh

— Alasdair Clark (@alasdair_clark) March 13, 2020
Mr Reed is a popular figure at Markinch Station and is well-known to go above and beyond for locals.
ScotRail's head of customer operations Phil Campbell said: "During this unprecedented global crisis, our society really benefits from peoples' selflessness and kind-hearted actions.
"We're proud to have Colin represent ScotRail. He's a credit to the business and a worthy winner of our employee of the month award for March."
The Feelgood Feed
Things are tough right now — but the power of community has never been more important or more obvious.
In every walk of life, people are coming together to ensure that no one is left to fight coronavirus alone. From neighbours helping each other with simple everyday tasks, right up to the heroes of our NHS on the front line of the fight, we're standing together to try to help.
The Feelgood Feed is here to celebrate this community spirit.
Featuring stories from The Courier, Evening Telegraph, Press & Journal, Evening Express and Sunday Post, we'll be sharing the most heartwarming, inspirational and even funny ways that people in our part of the world and beyond are helping each other out.
DCT Media journalists will always ask the important questions to make sure that the authorities are doing everything they should to help keep us safe. But we also know everyone needs a bit of a boost at times and some reassurance that better days will soon return.
So our mission is simple: we hope every time you visit The Feelgood Feed, you leave feeling happier than when you arrived.