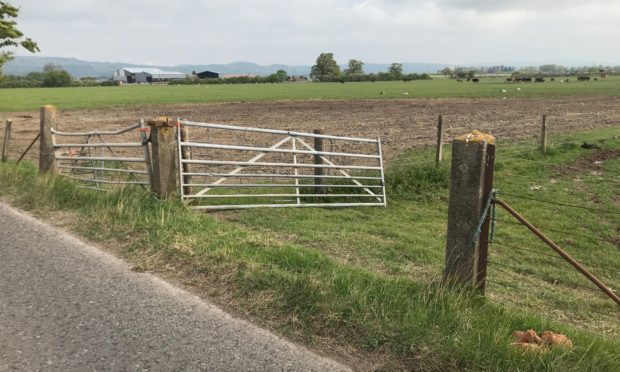 A farmer has spoken of his anger after an out-of-control motorist careered into a field of cattle, then left the gate open as they made their escape.
Robert Morgan said the damage will cost hundreds of pounds to repair, adding the offending driver was lucky no cattle had made their way onto the road before it was discovered.
He added he would have been understanding had the driver approached him to explain but they had made off without a word.
The incident happened near the junction between Station Road Errol and the road leading to the A92, less than half a mile from Robert's home at East Leys Farm.
He said: "It's not the first time it's happened and it won't be the last and I wouldn't have been angry if they'd let us know –  I'm far, far more angry that they drove off.
"They could have looked across and they would have seen the farmhouse – it wouldn't have taken a genius to work out who the field might belong to.
"They've obviously been driving far too fast on a narrow country road and haven't been able to take the junction.
"They demolished 40 metres of fence, which will be an expensive repair. They've then driven through the field to the gate.
"The fence was down and the gate was left wide open – at the very least they should have shut it. I'd be very surprised if they didn't see that there were animals in the field.
"It's just luck that the cows didn't get out as there was nothing to stop them going onto the road.
"I don't like to imagine what would have happened if they got out – they could have been injured or someone could have gone into them. It could have been much worse."
A Police Scotland spokesman said: "We can confirm that officers in Perth have received a report of damage to a farm fence in the Station Road area of Errol, which is believed to have taken place overnight between Thursday May 7 and Friday May 8.
"Inquiries are at an early stage."