Stonehaven crash: Heroic off-duty conductor clambered from wreckage and walked mile along track to get help
By
Reporter
August 14 2020, 10.29am
Updated: August 14 2020, 10.29am
An off-duty train conductor who clambered free from the wreckage and walked a mile along the track to get help has been hailed an "outstanding" hero.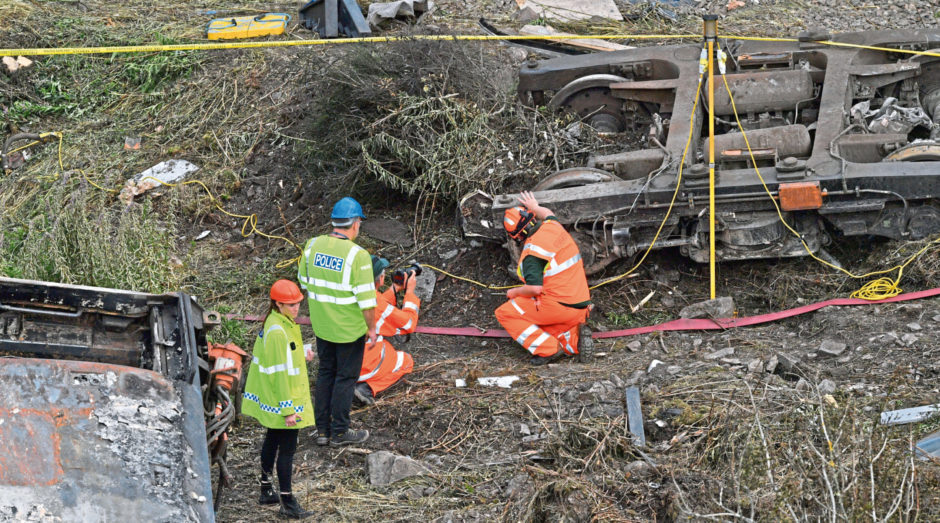 The worker, who has not been named, was on the 6.38am Aberdeen to Stonehaven train when it derailed at Carmont on Wednesday.
After getting free, the worker made his way to the signal box to dial 999.
His calls were answered by Constable Liam Mercer and a colleague, who ran towards the burning carriages and started evacuating people.
UK Transport Secretary Grant Shapps and Scotland's Transport Secretary Michael Matheson yesterday hailed their efforts, while praising the response from the emergency services.
Due to the location of the crash and the weather conditions, first responders were pushed to the limit as they tried to get people to safety.
Four firefighters were injured after being hit by an uncontrolled vehicle as they worked. Two were treated at the scene, while their two colleagues were taken to Aberdeen Royal Infirmary with ankle and shoulder injuries.
All have since been released.
Three people, driver Brett McCullough, conductor Donald Dinnie and passenger Christopher Stuchbury died after the train derailed.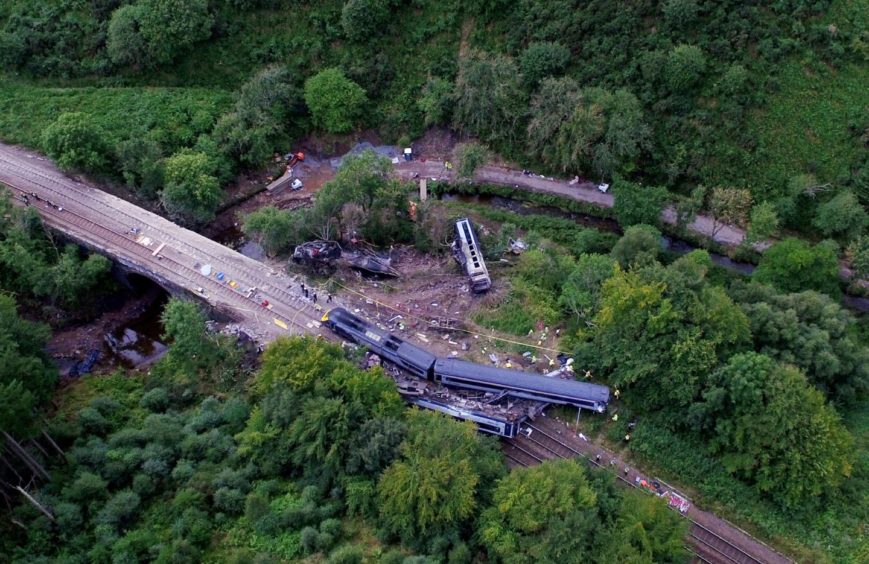 During a visit to Stonehaven yesterday Mr Matheson met fire, police and ambulance staff who had been involved in the response.
He said afterwards: "As you can imagine, it was a very difficult scene to pinpoint exactly where the incident had taken place and then to find a way to access the site, so from a local policing view they were able to respond to that very quickly.
"There were 18 fire appliances here alone, a very significant response."
He revealed that a crew member managed to clamber from the wreckage and get to the signal box a mile down the track to raise the alarm
Mr Matheson said: "I've been quite literally humbled by the way in which the emergency response teams dealt with this issue, and how railway engineers helped to manage this incident over the course of 24 hours.
"They've been absolutely outstanding, and the actions of this particular member of staff demonstrates their professionalism and dedication."
It is believed the weather may have played a factor in the crash, with about 1.4 inches of rain falling on Stonehaven over a 24-hour period.
Following a tour of the disaster site, where yesterday one carriage still remained down a steep embankment, Mr Shapps also commended those who risked their own safety help those in need, particularly PC Mercer who was jointly first on the scene alongside a fellow police officer.
"He said to me that his training kicked in straight away," said Mr Shapps.
"He had never seen anything like this before for real, but he had trained for it and from all I've heard he didn't hesitate, and straight away started helping people out of the train," said Mr Shapps.
"It's just extraordinary and humbling," he added. This was a terrible incident that turned out to be a tragedy, and not to flinch and to just get on with his job was just extraordinary."
He added that he was impressed by the way everyone had worked together.
The UK Government minister extended his sympathies to all those involved. "Thank goodness there weren't more people on board," he said.
Meanwhile, last night it emerged that firefighters who were at the scene will be offered counselling. Fire Brigades Union regional secretary for Scotland Denise Christie said it was a traumatic call for all involved.
Stonehaven train crash: Former Perthshire man named as third victim