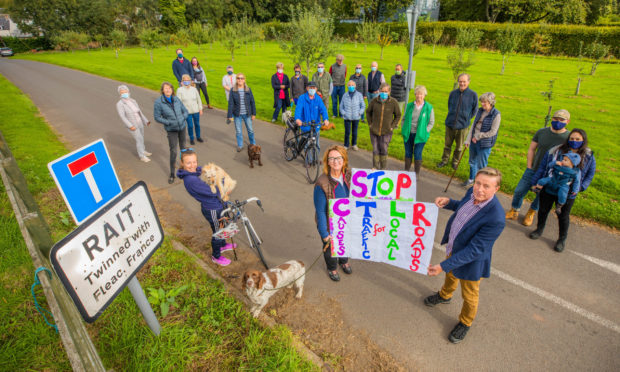 Residents in rural Perthshire are demanding a rethink on the Cross Tay Link Road, claiming it is no longer needed in a post-Covid world.
Perth and Kinross Council will decide next week whether or not to push ahead with the flagship scheme which aims to reduce city centre congestion building a new road and bridge between the A9 and A94.
Council leader Murray Lyle argued this week that the long-awaited project is vital for Perth's future and could unlock nearly £1 billion of private investment.
But people living on the edge of the £118 million development fear it will create "ran runs" through quiet country roads and villages.
There are also worries it will drive away traffic from Perth city centre, turning it into a "ghost town".
Local residents stepped out in Rait on Thursday to show the strength of feeling against the scheme. They held a banner reading: "Stop CTLR: Causes Traffic for Local Roads."
Graham Nicholson, vice-chairman of Rait Community Association and head of the Braes of the Carse Conversation Group, said: "We think this is a road to nowhere, its not even a full ring-road.
"We expect that any traffic coming from the A9, heading to the A90 east, will be sent by Sat Nav through smaller country roads."
He said: "We are also concerned that, because of changes in shopping patterns largely as a result of lockdown, Perth is emptying out and becoming a ghost town.
"The Cross Tay Link Road will make it even quieter, and encourage traffic to bypass it even further."
Gerard McGoldrick, who chairs the Abernyte School Parent Council said: "This is going to create more traffic through villages like Abernyte and Rait, but also communities over the border in Angus such as Muirhead. These roads really aren't suitable for big vehicles."
He said: "I don't think unintended consequences have been properly evaluated. I'm also concerned we are about to spend a lot of money during a period when the whole relationship with travel and people may have changed."
Rait resident Cathy Hawes said the road through her village has become increasingly popular with cyclists and pedestrians, including children.
Questions over £1bn investment claim
Claims that the new crossing will help unlock £1 billion of investment have been questioned by Carse of Gowrie Labour councillor Alisdair Bailey.
He said the figure, quoted by council leader Murray Lyle as a main argument for development, was calculated before coronavirus turned the world on its head.
"This is a road into the unknown for Perth and Kinross Council," he said. "We now face a completely new reality, compared to when the models were created that give Councillor Lyle this investment figure.
"Millions more people working from home, growing unemployment which is driving the gap between the richest and poorest in our area and a social crisis are just three of the things that undoubtedly mean that the previously calculated upsides of this road need rethinking."
Mr Lyle insisted the new road was crucial for Perth. "Standing still is not an option," he said. "The CTLR is pivotal to our ambitions for the future of Perth and Kinross so it continues to be a place where people want to live, work and invest for years to come.
"It will deliver an enormous economic boost to the area in terms of new housing, and subsequent Council Tax receipts, and new employment."