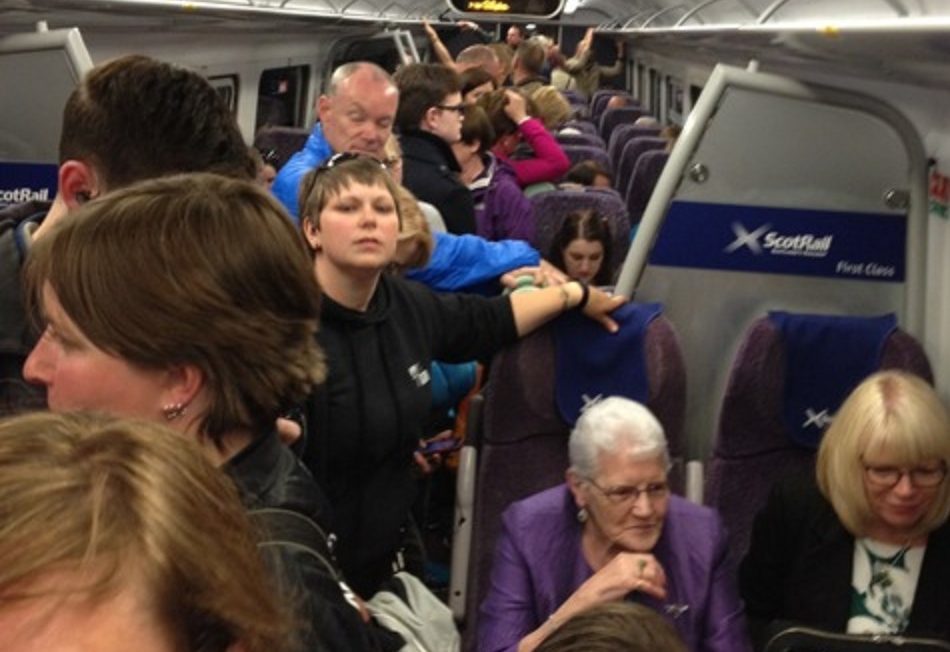 Pressure is mounting on train operators to provide better services between Edinburgh and Fife following a second weekend of problems on the railways.
Mid Scotland and Fife MSP Claire Baker has called for measures to be put in place during the Edinburgh Festival season after receiving a flurry of complaints regarding ScotRail services.
Commuters were left stranded in Edinburgh as they were turned away from trains that had reached full capacity, with Saturday seeing the worst of the chaos as departing festival revellers coincided with fans returning from Dunfermline's game against Hibernian at Easter Road.
Ms Baker said many Fife Circle trains once again ran with only two carriages, resulting in people left stuck on the platform as they tried to leave the capital.
"Whilst I appreciate that it can be difficult to gauge the number of commuters during any one weekend it is inevitable that during the Edinburgh festivals the number of passengers using Sctorail to go to and from the capital will rise," she said.
"Coupled with the fact that we also had a Fife team playing in Edinburgh against a team who also has a strong Fife support, it is not unreasonable to expect ScotRail to adapt to cope with demand.
"Instead we had commuters stranded on platforms, unable to get on already packed trains.
"Two carriages are simply not enough to meet such demand.
"ScotRail must be anticipating busy periods and must ensure that, during the duration of the Edinburgh Festivals, Fife commuters are not once again being left stranded due to a lack of capacity."
Last week's coverage of the problems on the railways struck a chord with Perth resident Gordon Mack, who contacted The Courier to highlight his journey home from Edinburgh this summer.
He insisted overcrowding is a "disaster waiting to happen".
"It was the day of the Pro12 rugby final at Murrayfield – an event well publicised in advance, much like the Festival, and therefore not a surprise to ScotRail," he explained.
"We were travelling on an evening train – but by no means the last of the day.
"In one door area alone, I counted 12 standing passengers – nose to nose.
"I was in close bodily contact with a Fife man until Kirkcaldy. This happens every weekend, he said.
"One woman in our carriage fainted – but such was the crush that she remained standing until a considerate passenger gave up his seat and friendly hands produced a bottle of water.
"This is clearly an unacceptable situation – and one which ought to attract the attention of the Health and Safety Executive."
Mr Mack added he was astonished to find that train companies do not guarantee the provision of seats for journeys, as per the National Rail Conditions of Carriage (NRCOC).
"You can claim compensation for delays, but not it seems for having to embrace a drunk or hygenically-challenged stranger for several hours because of wilful overcrowding," he continued.
"Why do we put up with this nonsense?"
A ScotRail spokeswoman said: "Every available train we have is out working in our network.
"We run over 2,500 services every day and do all that we can to meet demand – which can peak at different times – dependent on events or sporting fixtures running all over Scotland.
"We have strengthened services around Edinburgh during the incredibly busy festival period.
"Where demand for our rail services was just too high – as experienced late on Saturday night – we laid on buses and taxis to make sure our customers could travel where they needed to go."
A Transport Scotland spokesperson said: "Operational matters such as this are for the franchisee to manage, however the Scottish Government fund ScotRail to deliver a safe and reliable railway service offering the public good value for money.
"There are currently more trains operating on our rail network than ever before and in March the Scottish Government announced additional funding which will give ScotRail the capacity to run 200 more services per day, meaning 20,000 extra seats from 2018.
"This represents the largest programme of customer improvements seen in Scotland in a generation and a significant increase in rail capacity for Fife."