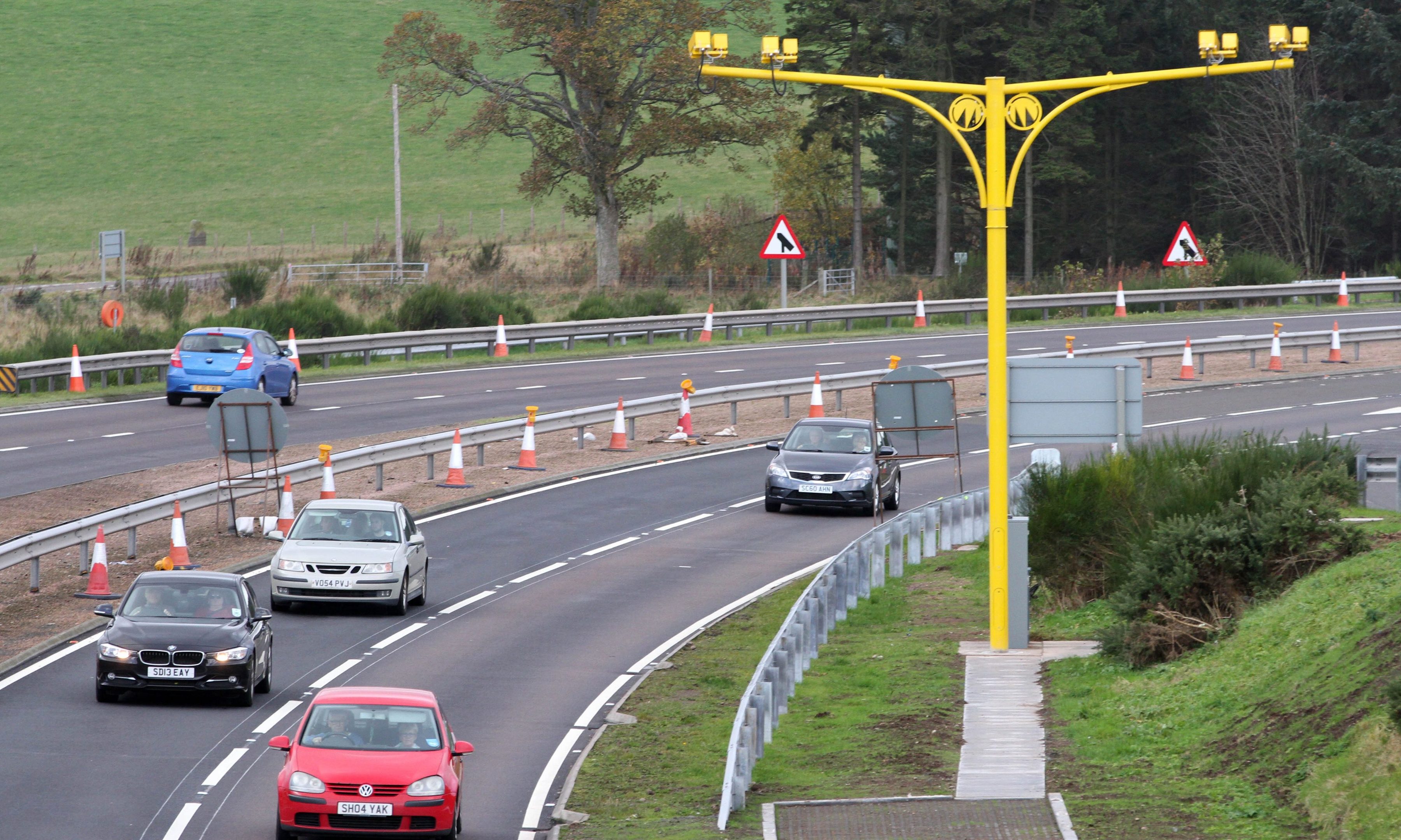 The death toll on one of Scotland's most notorious roads has dropped dramatically since the installation of controversial average speed cameras, transport bosses have insisted.
A new study of the A9 Inverness-Dunblane route — 18 months after the so-called yellow vultures were introduced — suggest the Inverness-Dunblane route has become much safer with 26 fewer killed or seriously hurt.
However, politicians say the cameras have not done enough to curb an "alarming" level of casualties.
And they have urged the Scottish Government to do all it can to complete the £3 billion dualling project by the 2025 deadline.
The new figures released by the A9 Safety Group show that four fewer people were killed on the road and 22 fewer people were seriously injured compared to an equivalent period before they were installed.
The number of fatal and serious crashes was down overall by 45%.
Since the cameras were introduced, 8,015 vehicles have been caught speeding out of more than 22 million journeys along the route.
Journey times between Perth and Inverness have increased by about 10 minutes.
Transport minister Humza Yousaf said: "Safety is an absolute priority and every road death is one too many.
"The latest figures indicated the route is much safer since the average speed cameras were introduced."
He said the data marked the mid-point of a three year evaluation.
"This extremely encouraging picture is to be welcomed and I would urge all A9 users, particularly the small minority who continue to take risks, to play their part in reducing accidents as we progress our £3 billion A9 dualling programme."
Stewart Leggett, chairman of the A9 Safety Group, added: "Since the cameras were installed, there has been a sustained improvement in driver behaviour and we are now seeing a corresponding fall in casualties."
He said he was "heartened" by the early results.
Mid-Scotland and Fife MSP Murdo Fraser said: "It is good to see the number of fatalities reduce on Scotland's deadliest road, but there is still an alarming level of casualties which clearly demonstrates that speed is not always to blame.
"The road layout, with confusing changes between single and dual carriageway, is still problematic and the Scottish Government must do all it can to ensure that we have a fully dualled road before the 2025 deadline."
He added: "If you look closely at the statistics, the average journey time for north and south travelling vehicles has increased by nearly 10 minutes. Frustration caused by slow moving vehicles can be a cause of accidents and I would hope that slower journey times do not exacerbate the situation."
Mike Burns, who led a high profile campaign against the cameras, said: "Journey times have massively increased and the figures are not a true reflection as 2014 continues to be omitted.
"Incidents and restrictions are still up between Perth and Inverness and now the fiddling of results – to remove the time effects of roadworks – are masking the true effect of the continued restriction of the road, with back roads now suffering a doubling of road traffic as well."
Liz Smith MSP welcomed the drop in accidents, but added: "These cameras are a sticking plaster solution and the Scottish Government must continue to press ahead with dualling plans to ensure Perth and Kinross and the Highlands have infrastructure befitting the 21st century."