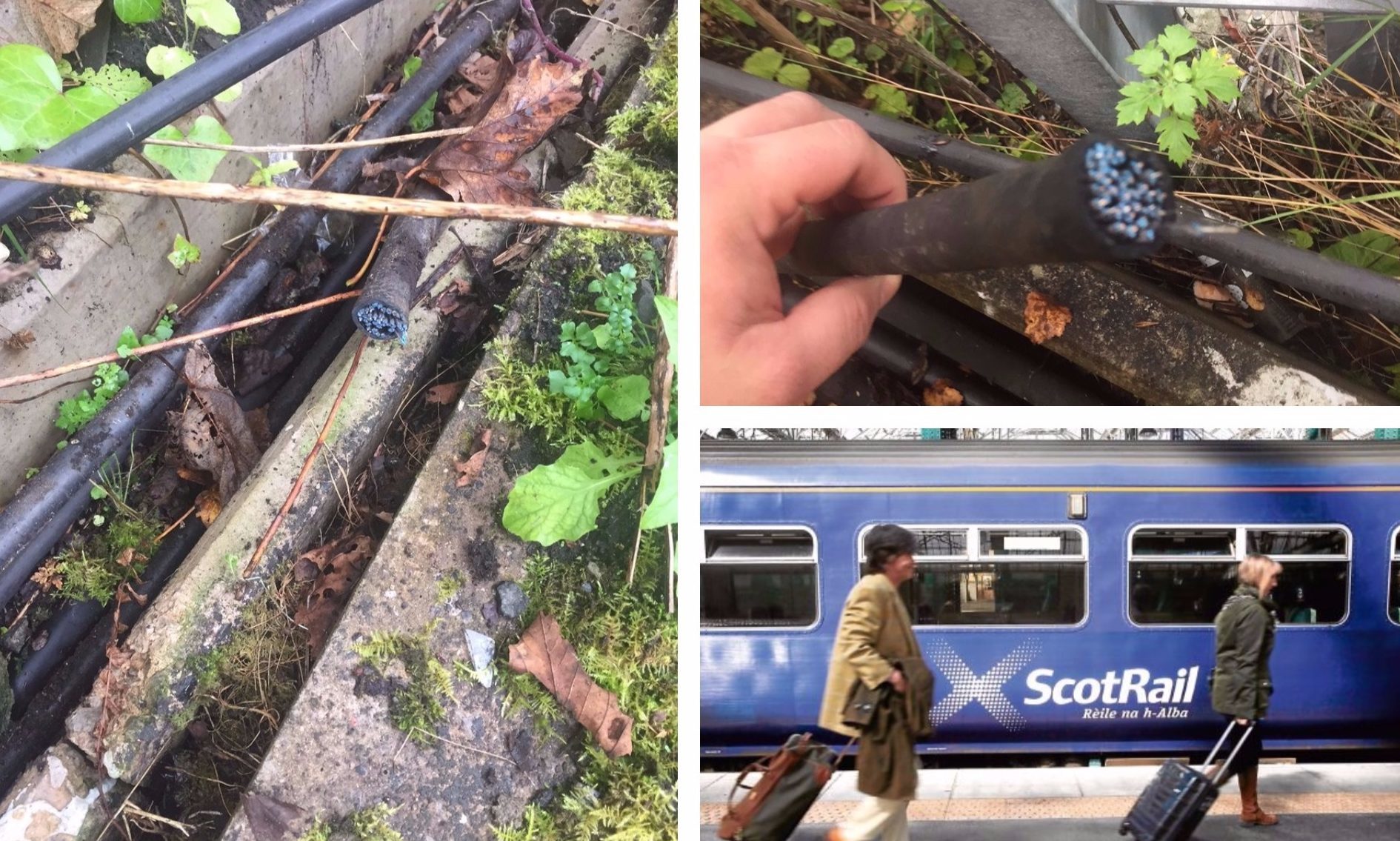 More than 30 journeys to Fife, Dundee and Perth were cancelled yesterday after thieves made of with almost 50ft of valuable railway line cable.
A total of 32 services across the region were called off after the missing links caused a fault on the line between Inverkeithing and North Queensferry at noon.
Seventeen journeys through Fife were among those scrapped after the fault was reported, with further routes to Perth, Dundee and the Scots capital cancelled.
About 50ft of signalling cable was taken by the thieves. The incident is being investigated by the British Transport Police (BTP).
#Edinburgh Some images from the scene of today's cable theft. Staff working very hard to repair ASAP. pic.twitter.com/mH3qPKqMl7

— ScotRail (@ScotRail) September 25, 2017
ScotRail arranged for rail users to board Stagecoach East services between Dundee and Inverkeithing, with "limited" replacement buses in use between Edinburgh, Perth, Dundee and stations in Fife.
Services were affected until after 8pm. (late check)
Fife commuter Gary Thomson was travelling from Edinburgh to Inverkeithing when he witnessed a female passenger collapse in a crammed carriage.
Gary said: "It was so busy that you couldn't see two or three folk in front.
"The lady collapsed and everyone was passing water bottles around.
"I've probably seen that happen (a passenger fainting) four or five times in as many years.
"She seemed to come round quite quickly.
"Surely getting air conditioned buses would have been better than shoving people right up against each other?
"I just think it could have been handled a bit better."
Elizabeth Carpenter, from Kirkcaldy, travelled to Dundee by train in the morning, but found herself making the return journey by replacement bus.
"We got to Dundee, went to the platform and were just told that there were no trains due to signalling problems in Edinburgh so two buses were laid on instead," she said.
"It didn't really bother us to be honest as the bus got down to Kirkcaldy quite quickly but I can imagine people going to Edinburgh, trying to go to a meeting or trying to catch a flight, would have been quite angry.
"Our bus driver wasn't happy because they didn't know what was happening."
Chris Laird, from Kelty, was waiting patiently on the platform at Kirkcaldy to pick up his wife Katie, who had been beset by cancellations and delays.
He said: "She was meant to be getting the train back to Queen Margaret in Dunfermline but that was cancelled so she's on the train to Kirkcaldy. It's fair to say she was a wee bit crabbit when she phoned."
Dundee University student nurse Lynne Gillanders feared she would miss her 6.30pm flight from Edinburgh to Dublin after her train from the City of Discovery, due in at 3.34pm, was cancelled.
ScotRail arranged for a taxi to take her to Edinburgh Airport.
The 21-year-old said: "I was very stressed. I didn't know how I was going to get there. I'm flying out to see family in Dublin just for a few days before I start work. I'm getting a taxi down instead.
"It is annoying but they are fixing the problem which I am more than grateful for."
Last night a Network Rail spokesman said: "Signalling cables were stolen earlier today resulting in disruption to train services into and out of Edinburgh.
"We are working hard to get services back to normal as quickly as possible while British Transport Police investigate the crime."
A ScotRail spokesman added: "We apologise for any disruption faced by customers as a result of the theft of cabling.
"We are as frustrated as our customers that thieves have caused so many issues for people just trying to go about their day. We are working flat out to get services back to normal as soon as possible."