Police put older drivers in Fife to the test using a simulator to assess reaction times.
The simulator was set up at Dobbies in Dunfermline to help mature motorists stay safe on the road.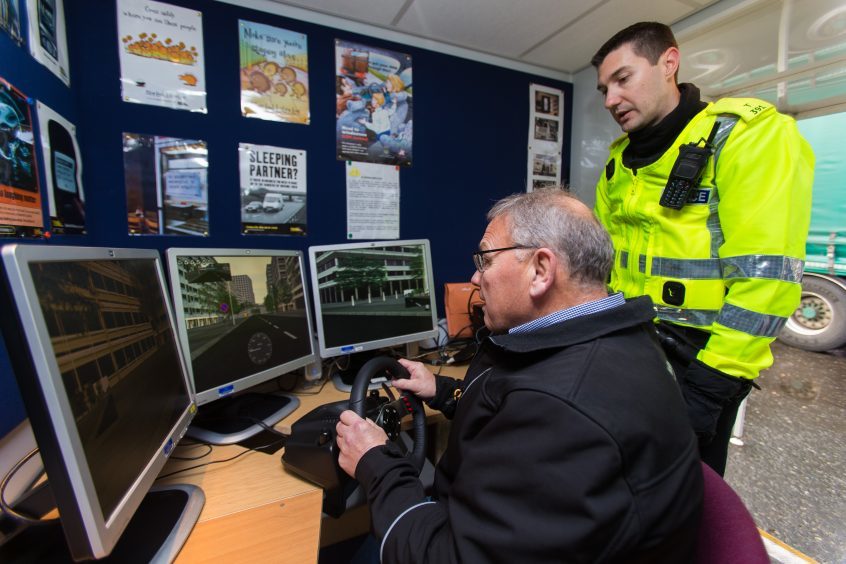 Many experienced older drivers have no reason to consider the option of stopping driving.
According to the Royal Society for the Prevention of Accidents, experienced drivers are generally safer than those with less experience.
Road safety charity Brake said research showed drivers aged 60 to 69 were less than half as likely to be involved in a crash compared to drivers aged 20 to 29.
However, the risk increases when drivers reach the age of 80.
Police are raising awareness of factors such as prescription medication, changes in fitness and eyesight, difficulties with night driving and less frequent car use, which could affect safety.
The older drivers roadshow has also visited Dalkeith and Stirling.
PC Heather Still said: "There has been a rise recently in accidents involving older drivers.
"Just because someone has been driving for 42 years doesn't necessarily mean you are safe to drive.
"But to be fair, there really haven't been many people who have come along and decided not to get into a car again.
"They have been really good, despite the fact the simulator is not like driving a real car."
Experienced driver Ian Morrison, 73, was among those who had his road skills tested.
"I did excellently apparently," said Mr Morrison, of Kirkcaldy.
"It was quite a revelation to be tested. I'm quite surprised, but delighted."
As a result of the roadshow, one motorist who had lost confidence on the road decided to give up his car.
Another made the decision not to drive during the hours of darkness.
Sergeant Nicola Young said a number of people visiting the roadshow had concerns about prescription medication.
"A common sense approach should be used," she said.
"Go by what's written on the box. There might be advice that the medication makes you drowsy or you should not operate machinery while taking it.
"If you're in any doubt at all, contact your GP and if you feel a bit off just stay off the road."
Sergeant Young said some people who used to commute to work every day might find themselves only using the car occasionally, and that could have an impact on driving ability.
"There are older drivers who have lots of experience on the road. However, some people as they get older drive less," she added.