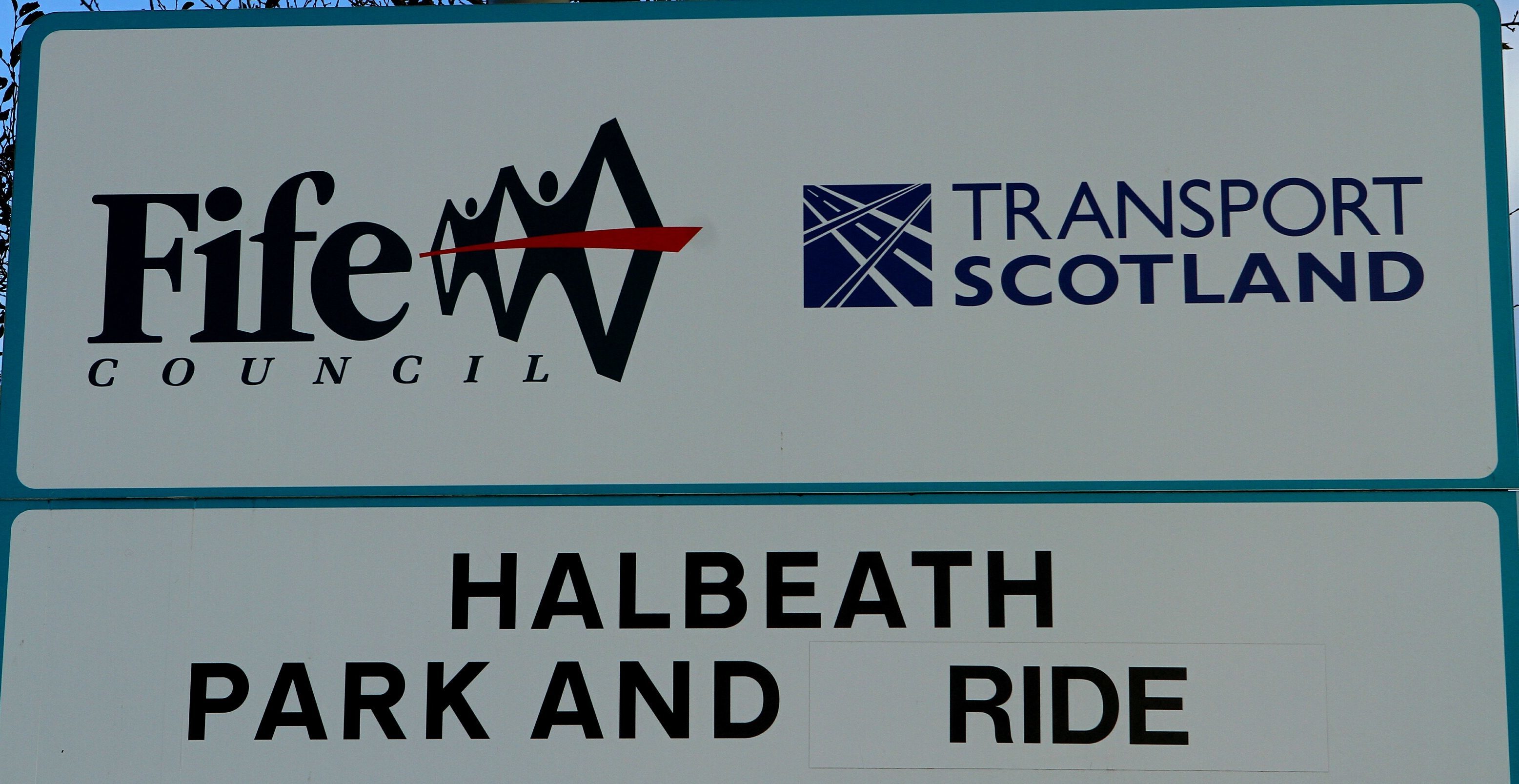 Sir, – Why do people use the Halbeath and Ferrytoll park and ride facilities (Courier, February 26)?
No doubt, some people use it to park their car for free while they go on holiday (though they still need a lift from a friend or a bus or a taxi from the airport to get to it on their return). Some use it as a convenient place to park while going off by bus to Dunfermline, Edinburgh, Glasgow or Livingston to shop. Some use it, of course, to avoid taking a car into the capital for work, and this group could face an approximate increase in travel costs of £250 per year when the £1 charge for parking is introduced.
This is on top of the relatively modest increase in council tax of which we are all soon to be notified. Some of these people will fall into the category of the income tax payer facing an increase from April. If they're only getting a modest increase in salary and wage, they are entitled to feel aggrieved.
The policy could well lead to a decrease in bus journey, as Stagecoach fears. It may also lead to people trying to park their cars somewhere in Dunfermline, as close to the complex as they can get.
It is difficult to predict exactly how drivers will react. All the more reason, it seems to me, why Fife Council should have done a bit more research before taking the decision to charge. These days authorities need to take into account a host of environmental issues before introducing a step of this kind. Nobody in Fife House seems to have done that. They seem to have acted in a fit of pique, annoyed at those who sought to keep down their holiday costs, and it is not too late to look at the whole matter a gain.
Bob Taylor.
24 Shiel Court,
Glenrothes.
Must preserve historic house
Sir, – So Dundee Council proposes to let out Camperdown House as office premises (Courier, February 21). This beggars belief.
Mr John Letford's masterly letter in The Courier on February 23 says everything that I and many others who care about Camperdown House feel about this mindless decision.
I hardly think that the house, given as Mr Letford says, to the people of Dundee, was not done so without stringent conditions to safeguard its future. Does the council propose to ride roughshod over such documented conditions?
Dundee may be on the way to becoming a major, modern city with the coming of the V&A and creation of the waterfront but that does not warrant casting aside its priceless heritage.
Does the average Dundonian know why the newly created Slessor Gardens is thus called and why there were Camperdown jute works, docks and others around the city?
Camperdown House should rightfully be a maritime museum, as stated by Captain Crawford, to house the many Duncan treasures lingering out of sight in the store rooms of Edinburgh museums.
Elizabeth Picton.
Hepburn Gardens,
St Andrews.
Interesting observations
Sir, – With regard to the case of "Law killer" Robbie McIntosh, I would like to make some observations.
Consider the case of a dog biting a man and drawing blood. Given a second chance, the dog then savages a baby. The result is that the dog is put down.
In the second case, a man brutally kills a woman. He is sent to jail but subsequently given a second chance.
He then brutally attacks another woman with intent to kill.
The result is that the man is fed and watered in secure accommodation for the rest of his life.
Think about it.
John Dorward.
89 Brechin Road,
Arbroath.
No answer to NHS concerns
Sir, – I recently saw a news item about the Scottish Government advertising for radiologists. This has been a specialty shortage for some time. Two Scottish Government actions are likely to worsen this. Firstly, income tax here is higher and, secondly, the tax on conveyancing dearer houses has been raised. As the NHS in Scotland recruits from the same pool of talent as England and Wales, this is a disincentive for radiologists to come to Scotland, where departments are often already understaffed.
Should higher salaries be used as an inducement, what would other specialties have to say about it? The same applies to clinical biochemistry. Radiology and clinical biochemistry are the mortar which bind the bricks of many other hospital departments together. Without an efficient service passage through, hospital becomes slower and wastes money.
As if this was not enough, private schools are to be taxed more heavily. Although they comprise only 7% of secondary school places, their former pupils go on to supply 40% of the science, technology, engineering and maths graduates who are in short supply and are vital to wealth creation. God help Scotland.
Ian Strachan.
Eathie,
Golf Course Road,
Blairgowrie.
Stone stolen by Edward
Sir, – Regarding the story about the possible return of the stone of destiny to Perth (Courier, February 27), I would suggest that, for a local paper, your sense of history is a little shaky.
The stone was not stolen by a group of students from Westminster Abbey; it was stolen by Edward the First of England and taken to Westminster as a symbol of Scotland's subjugation.
The students were recovering stolen property. As to the Stone's pedigree; if it really was from the Middle East, isn't it remarkable that it's made from a sandstone astonishingly similar to that found in Perthshire?
Ian Gilbert.
16 Robertson Crescent,
Pitlochry.
Correspondent is losing touch
Sir, – It was interesting to read the tongue-in-cheek takedown of the opinionated Dr John Cameron by Andrew Collins. (Letters, February 20). Dr Cameron's views are regularly given column space on the Letters page as he seems to have a view about everything, which he delights in sharing with the readership under his various pen names of the Rev. Dr John Cameron, Dr John Cameron or just plain John Cameron.
Dr Cameron is known to have spent some time in America and appears to identify with the republican economic model of profit before people, which for a man of the cloth suggests that he has lost touch with his mentor, Jesus – who always put people first, as demonstrated by his act of ejecting the moneylenders from the house of God.
In the piece that prompted Andrew Collins' response, the learned doctor hailed the enterprising acumen of his American friends in the pursuit of shale oil extraction and castigated the Scottish Government for failing to do the same thing here because the Green party tail was wagging the SNP dog. No mention, however, of the human health problems encountered during the extraction process, as reported in the American press, just pointed criticism for missing an opportunity for profit.
Allan A. MacDougall.
37 Forth Park,
Bridge of Allan.
Slap in the face for taxpayers
Sir, – When questioned on The Sunday Politics programme (February 25), the SNP higher education minister, Shirley-Anne Somerville, confirmed that the Scottish Government will continue to fund tuition fees for EU students even after the obligation ceases when we leave the EU.
She even hinted that these foreign students could get their tuition fees funded by the SNP Government in the future.
What a slap in the face this is for hard-working Scottish taxpayers who have had their taxes increased for what the SNP and the Greens said was to protect public services when the truth is the tax increases are to continue funding SNP vanity projects to the tune of millions of pounds.
Mike Rogalski.
82 Feus Rd,
Perth.
Behave with honour
Sir, – The British Government is trying to manipulate the Good Friday agreement in Northern Ireland by stating it is not fit for purpose and trying to manipulate the devolution agreements in Wales and Scotland by using Brexit to take powers away from Wales and Scotland over what are quite clearly devolved issues.
It's time for the UK Government to do the honourable thing and honour the agreements they have signed up to.
If they live up to the things they agree to, then, and only then, can we all move forward. Surely they can do this simple thing instead of constantly breaking their word.
Bryan Auchterlonie.
Bluebell Cottage,
Perth.