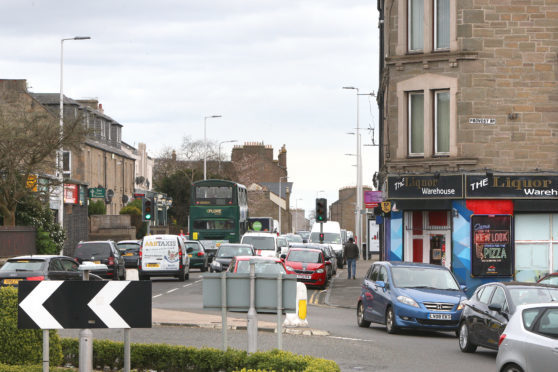 Dundee motorists will face more than three months of disruption on one of the city's busiest routes due to work on the water network.
The works on Clepington Road will be split up into five phases, each lasting around three weeks and the first starting on Monday.
A Scottish Water representative said a comprehensive traffic management plan has been drawn up in collaboration with Dundee City Council to minimise disruption.
Clive Duncan from Scottish Water explained: "Any road or lane closure is always a last resort when carrying out any work and in this case there was no way to avoid having traffic management in place, given the nature of the upgrade work required.
"We worked hard with Dundee City Council to come up with this plan and we are confident that it will help keep the traffic flowing and also allows access to local businesses in the area.
"This £5m mains upgrade across Dundee is a major investment for the city and will mainensure customers can continue to enjoy clear, fresh drinking water long into the future."
As part of phase one, there will be a west-bound closure on Clepington Road between Balgray Place and Caird Avenue.
A diversion will be in place via Arklay Street-Dens Road-Moncur Crescent-Caird Avenue.
During this phase Provost Road will be closed in both directions at the junction with Clepington Road.
During phase two there will be no lane closures as all work will be carried out on the footpath, but there will be parking restrictions on the south side of the road between 106 to 162 Clepington Road.
In the third phase there will be an eastbound lane closure between Graham Street and Mains Loan.
A diversion will be in place along Caird Avenue/Moncur Crescent/Dens Road/Dura Street/Forfar Road.
In the fourth phase a westbound closure will be in place along the same stretch of Clepington Road as in phase three, with the same diversions.
Finally, in the fifth phase of work there will be an eastbound closure on Clepington Road between Fairmuir Street and Old Glamis Road.
A diversion route will in place via Strathmartine Road/Caird Avenue.
Gina Temple from Caledonia Water Alliance, a Scottish Water partner, said: "We identified last summer that the work needed to upgrade the mains in the area would be more complicated than first thought.
"We are now in a position to start this work and we are looking to try and ensure this phase has as little impact on customers and business owners in the area as possible.
"We will also have customer liaison staff on site throughout the work to offer advice where needed."