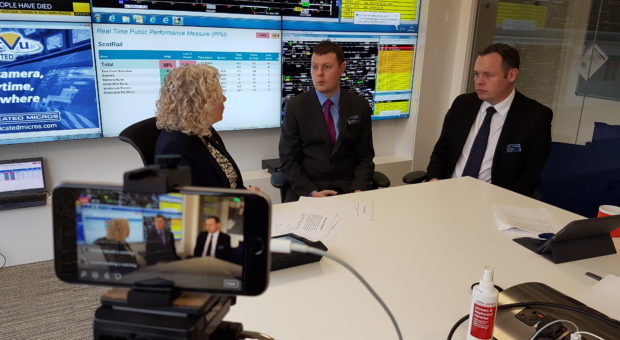 Rail chiefs are to compensate Fife's fed-up passengers with cheaper fares, but only for two months.
ScotRail has announced a "Fife for a Fiver" campaign, allowing people to travel between the kingdom and Dundee or Edinburgh for £5 return.
The company said the discount was in recognition of the fact the Fife circle route had been particularly badly affected by delays, stop skipping and overcrowding over the past few months.
But the scheme will only run between April 16 and June 15 and it will just apply to off-peak services, meaning commuters who are worst affected by the network problems will not be included.
A return off peak ticket between Kirkcaldy and Dundee usually costs £14.80, while the equivalent ticket to Edinburgh is £9.70.
The new promotion was announced by ScotRail chief operating officer Angus Thom on Friday during a grilling by Labour MSP Claire Baker.
He acknowledged the Fife service had not been good enough and that improvements were needed.
"We need to fix Fife and give a better and more reliable service," he said.
"If we could fix them right now, trust us, we would."
Mrs Baker quizzed Mr Thom and the company's head of integrated control Mark Ilderton during a live Facebook chat using questions posed by constituents.
He said Fife commuters would see the benefits of significant investment in Scotland's railways, particularly with more peak-time services, but not until the start of next year.
"There will be no improvement for Fife in the next timetable change in May," he said.
"We won't have the rolling stock we would like to make a big difference in Fife but that's not to say there's nothing we can do now."
Mr Thom indicated the possibility of adding more carriages to peak Fife services in the meantime as a way of alleviating frequent overcrowding.
Mrs Baker welcomed the assurances given but claimed Fifers were still having to wait too long for improvements.
"They're reducing the number of stations they skip now and are starting to make progress on that but we won't see a difference in capacity until next year," she said.
"I welcome the acknowledgement the Fife circle hasn't been good enough and that people deserve a better service but I think we're having to wait too long for it.
"Next year is a long time to wait for improvements ScotRail recognise are needed."