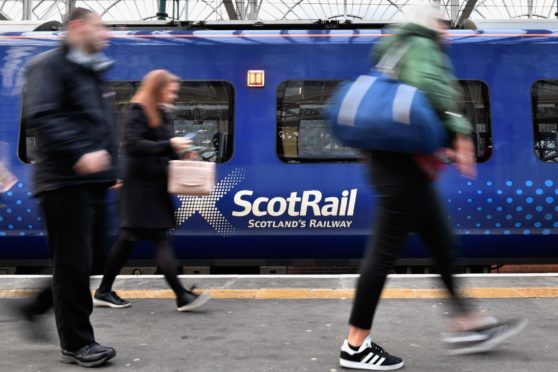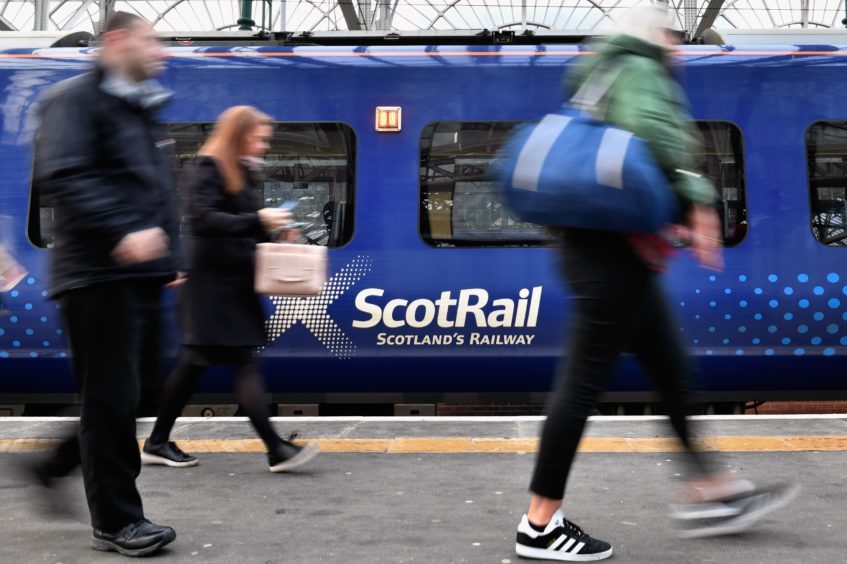 Sir,– I see that ScotRail is to offer cheaper fares to frustrated Fife rail users (The Courier, March 24.) I believe that Fifers might be getting cheap travel to Edinburgh or Dundee at a cost of £5 return for the next few months. This is supposed to make up for the late or cancelled commuter trains.
Sadly, those affected by the commuter chaos are unlikely to benefit from the £5 deal as it will apply only at the off-peak periods.
As a former rail user I can certainly say a gimmick like this does not impress me one little bit.
People who are working and using the trains really want to see trains that run on time, stop at the stations advertised and preferably are not cancelled unless there are extreme circumstances such as a breakdown or an accident or death on the line.
When I get a train to work, I want to know that I am going to get to my work on time and that I am not going to get into trouble with my employer or, even worse, be sacked for constant late-coming, which is not even my own fault.
The authorities, particularly in Edinburgh, are trying to discourage car use.
However, the way ScotRail runs services would put anyone off using public transport.
If ScotRail really wants to make up for the commuter chaos then why not cut the prices of the season tickets or peak-time fares?
That might actually help those who are affected by the stop-skipping, lateness and cancellations.
Ideally, all I want when I do use a train is for it to arrive at the scheduled time, stop at the correct destinations and for it to be clean and not over-crowded.
If ScotRail can get that right then they might be on to a winner.
Alastair Macintyre.
18 Webster Place,
Rosyth.
Decision was voted for
Sir, – I would like to counter the potentially damaging suggestion that the meeting of the Integration Joint Board (IJB) of the Perth and Kinross Health and Social Care Partnership on Friday March 23 was conducted in a way that might constitute the 'democratic outrage' that has been claimed by Councillor Eric Drysdale ("Care home's fate branded outrage", The Courier, March 24).
The people of Perth and Kinross have a right to be assured that the important and difficult decision on the future of Parkdale and Beechgrove care homes was taken, as are all our decisions, in line with the standing orders that apply to the conduct of our business.
Mr Drysdale's complaint that the decision was taken without a vote is misleading because it implies that the decision was not properly approved. This was not the case.
After a lengthy debate, I sought approval from the members of the board for the recommendations set out in the report of the review of social care, which included the closure of Beechgrove. Of the seven vote-holding members present, four approved the report and three chose to have their dissent recorded. The report was therefore approved.
All board members, including myself as chairperson, are governed by the board's standing orders and these must be respected by everyone so that we can conduct our business in an open, transparent and fair manner.
To do otherwise is to do a disservice to fellow board members, the staff involved in developing and delivering integrated health and social care and, most importantly, the many individuals and families who rely on the services that are provided by Perth and Kinross Health and Social Care Partnership.
Linda Dunion.
Chairperson, Perth and Kinross Integration Joint Board,
The Council Chambers,
2 High Street,
Perth.
Schools' part-time attitude
Sir, – I was shocked and surprised to find out that Fife schools aren't happy enough with a two-week Easter holiday, they also are off the last Friday of the week before. Add this to the four days lost to snow and holiday day off in March, as well as two teacher training days, they have hardly been in school this term.
I would like Fife Council to consider how hard it can be to arrange child care cover if you don't have family nearby.
Add this to silly things like the last day before Christmas being a half day and it is easy to get fed up with their part-time attitude.
Ian Brooks.
17 Halyburton Place,
Cupar.
Outraged relics from empire
Sir, – I note with some amusement how much our little Britnat friends are getting in a tizz about the British passport being printed in an EU country.
It is rather sad that these relics from the days of empire still get so worked up about their idea of Britishness and their determination to force it on everyone.
Many people born after 1973 have no idea about the old British passport and couldn't care less about its colour or who prints it.
Many Scots, I am sure, would like a passport that reflects their Scottish identity, but we all know the Britnats would never allow it – we can't have that; after all, we are all British, aren't we.
Bryan Auchterlonie.
Bluebell Cottage,
Perth.
Fishing is not a showstopper
Sir, – Recent articles on the Scottish fishing industry's EU position suggest it is not as clear cut an issue as originally claimed.
I did wonder how it can maintain its reliance on 30% immigrant labour since, despite average annual earnings of £31,000 (£117,000 on big boats), the locals don't all want to catch or process fish.
I also wondered why another year of transition is a problem when all other sectors face the same prospect.
I fear this dispute is small fry compared to the torrent of lobbying we will endure from just about every industrial, cultural, academic, political and social organisation in the country as they clamour for a say in the final agreement, especially since many sectors dwarf fishing.
Scotland's finance industry, for example, employs 10 times more people.
And, judging by the way the SNP struggles to reconcile historical opposition to the Common Fisheries Policy with obvious cracks in its current EU attitude, it looks like we'll soon see a Kew Garden-scale plantation of glass houses sprouting across the political landscape, as other politicians and parties struggle to hide and spin their own, flawed EU track record and policies.
One thing in Scotland's favour is, while our industry may be comparatively tiny, it is the same for most EU countries.
Fishing accounts for 1.5% of GDP in Denmark, 1% in Spain and 2% in Scotland.
So when we get to the short strokes, the issue of fishing rights might not be such a showstopper for any country.
Allan Sutherland.
1 Willow Row,
Stonehaven.
Protect our baby birds
Sir, – In my garden this morning all manner of birds were checking out nest boxes. Very soon they will be hatching their young and then many of them will be killed by domestic cats.
Why do we allow this to happen?
If people were killing these birds there would be an uproar, so why let a domestic pet wreak so much carnage?
It's time for a law to be brought in.
Bob Duncan.
110 Caesar Avenue,
Carnoustie.
Something to crow about
Sir, – Watching a resident crow population fighting and squabbling among themselves, and making a lot of noise to no useful purpose, I was struck by the similarity to our political elite in Holyrood. Maybe we should use the collective noun for a gathering of crows to better describe the Holyrood talking shop. A murder of MSPs?
Derek Farmer.
Knightsward Farm,
Anstruther.