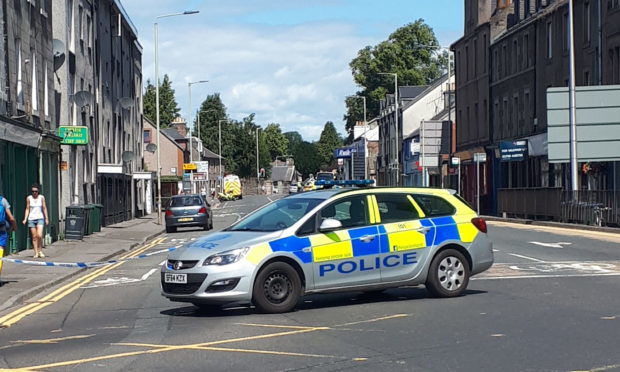 Perth cyclists are calling for a major overhaul of roads and paths in the city, following the death of a Bridgend resident.
Margaret Lowdon, 75, who ran Ackinnoull Guest House with her husband, Tom, died following a collision with a lorry in Main Street on Saturday.
Campaigners say there are not enough cycle paths and those that do exist are poorly designed.
Perth resident, Norman Watson, said he was cycling on the same route, not far behind Mrs Lowdon on Saturday.
"The scene was extremely distressing for all concerned. Although not involved as a witness, I was badly shaken, not least as I had unsuccessfully attempted resuscitation on a cycling friend last year," he said.
Mr Watson said he had written to Perth and Kinross Council in 2016 to request a segregated cycle lane between Perth and Scone, including in Main Street, but had never received a reply.
He said: "A segregated cycle lane would provide, at modest cost, a kerbed lane for cyclists between Scone and Perth Bridge."
Susan Morrison, a former cycling proficiency teacher, is another keen cyclist, along with her husband Duncan and their two teenage children.
She said: "The cycle lanes in Perth are awful, it's almost as if they were designed by someone who has never ridden a bike.
"They are dangerous and narrow, they are not joined up so when they come to an abrupt end cyclists have to then try to re-join the flow of traffic and the ones on the Glasgow and Scone roads are interspersed with traffic islands denying the road cleaners access so you have to cycle through a pile of muck and debris."
Susan, 49, fears for the safety of her children following Saturday's accident.
"We all cycle, including my children and a lot of my friends, so it could have been any of us," she said.
"It's very nerve-wracking for me.
"I know accidents like these don't happen very often but when they do they are catastrophic.
"We need to share the road and be tolerant of each other. We need to start seeing each other as humans."
Council leader Murray Lyle said the local authority took safety concerns seriously and had a dedicated policy for improving cycling facilities across the region.
He added: "The council has put extra cycle routes in our budget plans and we hope to attract funding from Sustrans [the sustainable transport charity].
"We had money in both last year and this year's budgets for cycling routes across Perth and Kinross, not just in the city."