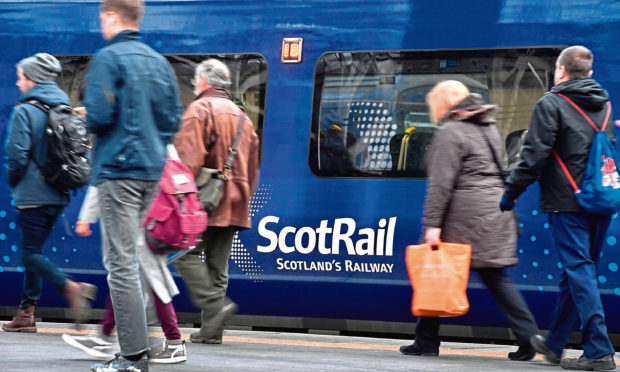 A minister was told to "put a rocket" under railway bosses to deliver improvements in the troubled service.
Tayside and Fife MSPs relayed the frustration of ScotRail customers who have suffered an escalation of travel turmoil to the Transport Secretary on Tuesday.
Claire Baker, a Labour MSP in Fife, called for the Scottish Government to step in and cancel the contract with operator Abellio.
"The service in Fife in recent weeks has been terrible with crew shortages being given as the reason," she said.
"My constituents are losing confidence in the ability of ScotRail to deliver the service that Fife deserves, a service they are about to pay more for."
She added: "Does the cabinet secretary now agree with me that poor performance cannot continue and the contract should be broken with Abello ScotRail as soon as possible?"
Commuters have endured delays, cancellations, over-crowding and stop-skipping, where scheduled stops are dropped with little or no warning to improve punctuality for bigger stations.
Murdo Fraser, the Perthshire-based MSP, said angry constituents were coming to him about the dire performance, amid incoming fare rises and the scrapping of free travel for children.
"I'm sure that passengers would not mind so much paying higher fares if they were getting an excellent service but they are simply not," the Scottish Conservative asked Mr Matheson in Holyrood.
"When he meets ScotRail and indeed the RMT (Rail, Maritime and Transport Union) will he put a rocket under them both and tell them to improve their performance?"
SNP MSP Jenny Gilruth also requested an update on the status of Scotland's most overcrowded service, the 4.34pm Edinburgh to Glenrothes, which a September report found has run at 136% capacity.
Michael Matheson, the Transport, Infrastructure and Connectivity Secretary, said the performance is "clearly not where it should be".
He said it is "unacceptable" that an industrial dispute over rest days, staff being taken off the frontline to train for timetable changes and the delay in the roll-out of new trains is delaying services.
"The ScotRail Alliance are in no doubt about my views about the performance to date and when I meet with the managing director of the ScotRail Alliance this afternoon (Tuesday) he will be in no doubt about my views on performance in the last couple of days in particular."
ScotRail this week apologised to those who have experienced disruption.
A spokesman said: "The majority of the impact is a result of our final push to deliver the December timetable improvements."