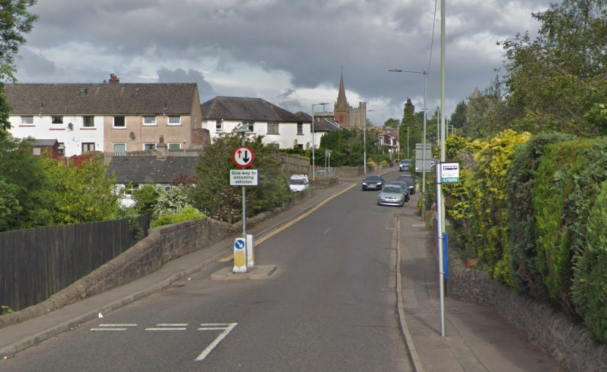 Motorists have been urged to drive "sensibly" in Invergowrie after concerns were raised about near misses with pedestrians on the main road through the village.
An island narrows the road and means drivers approaching from the Dundee side of the village have to give way to any oncoming traffic.
Ally Strachan, who lives just outside Invergowrie, said he regularly witnesses motorists "bombing it" around the island to avoid being stuck waiting.
The 51-year-old claims he has been clipped by a bus and was lucky to be uninjured as he was walking on the narrow footpath beside the road.
Ally, an offshore worker, said: "The council has essentially narrowed the road as the little island has created a system where only one vehicle can pass through and others coming from the opposite direction have to give way.
"I walk on the footpath beside that road pretty much every day during the week and regularly see drivers putting their foot down and bombing it through before someone else comes from the other direction, as they don't want to have to wait.
"The footpath is only wide enough for one person – just.
"Once, when a bus was trying to beat the traffic it clipped my jacket as I was walking.
"Luckily there wasn't anything sharp or I would have surely been injured.
"The situation will only get worse with more houses being built in the area, which will mean more traffic."
Carse of Gowrie councillor Alasdair Bailey has asked Perth and Kinross Council's road safety team to re-visit the traffic calming measures.
He added that drivers have a responsibility to drive carefully.
He said: "I have asked Perth and Kinross Council's roads safety team to look again at the traffic calming chicane at the entrance to Invergowrie in light of the incident reported to me by Mr Strachan and the associated concerns that he raises.
"However, it is primarily the responsibility of drivers to drive sensibly and ensure that their vehicles do not overhang the pedestrian footway in normal driving conditions."
A spokeswoman for Stagecoach said: "We are not aware of any reports of incidents in Invergowrie but we continue to liase with the council on any concerns raised.
"Our drivers are fully trained to manage a range of road layouts and conditions and we would highlight any issues with the local authority as necessary."
Perth and Kinross Council did not comment by the time of going to press.