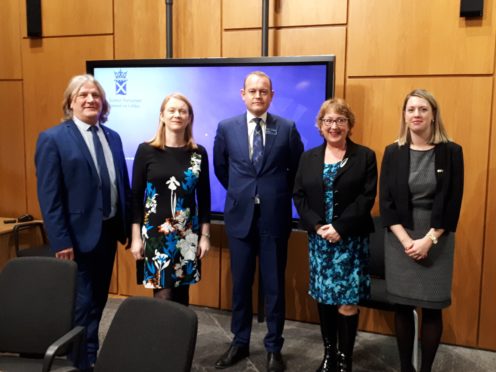 MSPs have pressed for urgent action to improve Fife circle services during a meeting with ScotRail Chief Executive Alex Hynes.
The meeting came  as new statistics reveal ScotRail has issued some form of apology in a quarter of all its Tweets since the start of the year.
By Thursday morning, the rail firm had tweeted 3,706 times in 2019. 889 of those contained the word "sorry", "apology" or "apologies", equating to 24% of the total.
The peak came on January 9 when 93 expressions of regret were made in a total of 319 tweets – nearly 30%.
The network has experienced a large number of cancellations and delays as a result of ScotRail crew shortages caused by driver training.
Fife SNP MSPs Shirley-Anne Somerville, David Torrance, Annabelle Ewing and Jenny Gilruth pressed ScotRail management to make immediate improvements until usual services are restored in the kingdom.
They highlighted potential improvements, including providing customers with information at the earliest opportunity when services will be cancelled or have fewer carriages than expected.
Additionally, the MSPs pressed ScotRail to put on replacement bus services when cancellations happen.
In the longer term they asked for new rolling stock to be introduced in Fife as soon as possible.
Dunfermline MSP Shirley-Anne Somerville said the disruption looked set to continue as staff were taken off services to attend training.
"Once these disruptions have been resolved, Fifers needs to see real service improvements in the long term.
"It's time for ScotRail to step up and give a concrete commitment that it is serious about delivering for passengers in Fife."
Kirkcaldy MSP David Torrance added: "In recent weeks I have received complaints about cancellations, delays, stop skipping and overcrowding.
"Fife passengers need to see improvements, and fast."
His Cowdenbeath counterpart Annabelle Ewing said she did not want to hear "any more warm words" from ScotRail but instead wanted a firm and definitive plan of action that will free up more trains to bring about a step change to the Fife service.
Mid Fife and Glenrothes MSP Jenny Gilruth, said: "ScotRail let Fife down over Christmas.
"Fife's MSPs were all assured that the kingdom is an absolute priority for ScotRail but we now need to see concrete action."
She was glad ScotRail had committed to a season ticket holder scheme, and welcomed the Delay Repay compensation deal, but added: "ScotRail now have a duty to improve our services."
Mr Hynes said: "We know that the service our customers have received hasn't been good enough recently.
"Everybody at the ScotRail Alliance is working flat out to deliver the improvements our customers expect and deserve."