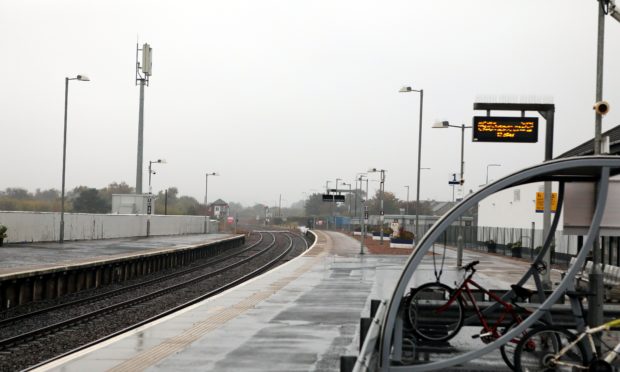 Pressure is growing on transport leaders to begin work on much-needed upgrades to Montrose train station.
Vital improvements in the pipeline for the "Victorian-standard" facilities include an indoor waiting room and toilets that remain open outside ticket office operating hours.
Rail bosses have been warned travellers face hours stuck on "dark and cold platforms" due to a lack of facilities and recent timetable changes.
The interchange has become busier after updates to the rail timetable meant more travellers heading south have to switch trains at Montrose.
Work was supposed to begin in April, but discussions between rail company ScotRail and government agency Transport Scotland are still ongoing.
Passenger improvements due to arrive at 135-year-old Montrose railway station
Conservative list MSP Liam Kerr has criticised transport bosses for failing to start work.
He has now written to Scottish Government transport secretary Michael Matheson demanding answers.
He said: "The transport agency was told in January that the Victorian standard of Montrose station is just not suitable for the number of people now using it.
"Chief executive Bill Reeve told me in February that upgrades would begin last month.
"Here we are in May, and thousands of travellers are still roughing it at a dark and cold platform.
"This isn't on, so I've asked Michael Matheson to explain what the hold-up is."
In December 2018, ScotRail changed its service timetables so more rail travellers heading south had to get off at Montrose to switch trains.
The move was slated for increasing car travel in the North East and acting as a barrier to tourism.
Mr Kerr said in his letter to Mr Matheson: "Montrose Station is much more heavily used as an interchange station than previously. It is therefore vital that it is upgraded."
He said rail boss Mr Reeve had failed to respond to two previous emails: "In view of the urgency and the promises, this is disappointing."
A Transport Scotland spokesperson said: "The upgrades at Montrose Station form part of a wider programme of works which officials will discuss with ScotRail to ensure all works, including those beyond Montrose, are carried out in the most efficient and least disruptive way possible."
A ScotRail spokesperson said: "Discussions are ongoing between ScotRail and Transport Scotland to how best approach improvement works at Montrose station to ensure they are carried in the most efficient way possible, with minimal disruption to customers."