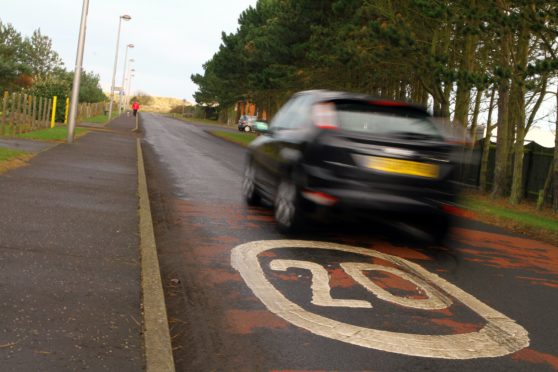 Councillors have collided in an angry road safety row following the decision to install £9,500 speed humps on Montrose's busy beachfront.
Communities committee members voted through the plan after a speed survey revealed dozens of drivers putting the foot down around Traill Drive.
Local administration members have accused the authority's opposition of introducing party politics into the road safety debate after town councillor, the SNP's Bill Duff said the speed bumps were "a solution to a non-existent problem".
Montrose Independent and communities vice-convener, Councillor Tommy Stewart said: "I am disappointed that Councillor Duff chose to bring an amendment which would have meant that no traffic calming was installed on Traill Drive and that all his fellow SNP colleagues on the communities committee supported his view.
"Party politics should have no place when making decisions on road safety."
Fellow Montrose Independent, Communities convener Cllr Mark Salmond, said: "This issue was raised on many occasions by Montrose Community Council and I am delighted they supported the traffic calming proposals as part of the official council consultation process.
"Common sense prevailed amongst the other members of the committee and once implemented, this will ensure cars have to travel at slower speeds around the Montrose beach area."
Montrose Conservative councillor Ron Sturrock, said: "I am supportive of any proposals which improve road safety and these cost effective measures will make the beach area a much safer place for local residents and visitors."
Mr Duff hit back: "I'm not going to take any lessons on road safety from administration members who disgracefully delayed installing a pedestrian crossing in Keptie Street, Arbroath following on from a tragic fatal accident.  Consultation on the Arbroath crossing received 400 responses.
"There have been no accidents on Traill Drive. The road already has engineered traffic calming and the survey on introduction of speed bumps only received responses from six people out of 12,000 voters in Montrose.
"The council's road safety budget is modest.  I would like to see it spent on tackling real issues.  Could I suggest to Councillor Salmond and his colleagues that they discuss the issue with Police Scotland and perhaps address the serious accidents on rural roads involving motor cycles."