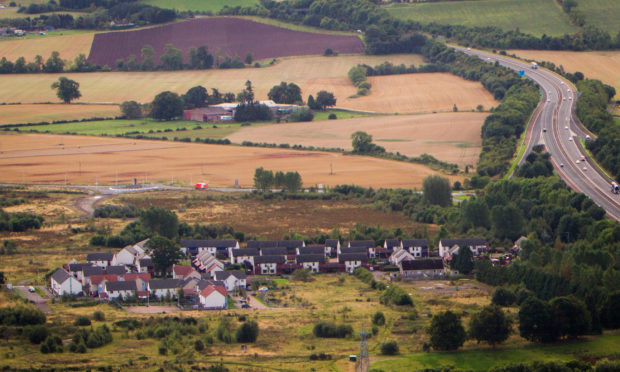 A bus operator has come under fire for its failure to provide a service to one fledgling estate on the edge of Perth, while doing so for another.
Stagecoach is catering for Bertha Park on the city's western edge while Oudenarde, by Bridge of Earn, is still awaiting a service, despite more than twice as many houses being occupied.
Stagecoach launched its extended number four service at the beginning of the summer, which connects the city centre with Bertha Park via Inveralmond industrial estate.
The extension was subsidised by both the council and Bertha Park housing developers Springfield. 101 houses have been built at Bertha Park, with 38 occupied and a further 23 reserved by buyers.
At Oudenarde – earmarked for around 1,500 homes – 94 are already built and occupied.
A handful of pre-existing houses and hospital cottages on the site mean the number of families at Oudenarde is past the three-figure mark but they have been left with no public transport to Perth.
Almond and Earn councillor Henry Anderson believes, by being disconnected from the surrounding area due to the lack of public transport, people will not find houses at the development as appealing.
The scheme has also suffered the loss of its GP surgery at nearby Bridge of Earn, with patients having to travel to Perth for appointments, making public transport vital.
He said: "Stagecoach are unable to provide a bus service for Oudenarde, even though with the older housing, over 100 families live there.
"The problem is that the development at Oudenarde has ground to a halt with only the social housing being built, but never any progress with the private housing development that the masterplan was to deliver.
"I hope that the community at Oudenarde can get together and form a group to put pressure on both Stagecoach and the Perth and Kinross Council's public transport unit, to find a means to allow buses to get the community to their medical appointments in Perth, as well as generally giving the community a public transport offer they deserve."
Earn Community Council has already suggested to both the council and NHS Tayside, altering bus routes or introducing a community transport scheme to connect the peripheral and rural areas around Bridge of Earn to the village centre – and potentially Perth –  to resolve the GP access issue.
Health and social care partnership officers explained, along with the local authority, they are looking at the transport options to support people who are travelling in to Perth city GP practices.
A Stagecoach spokesperson said: "We are committed to working with the communities we serve to develop our services in the area.
"We constantly review our network to identify customer demand and opportunities and are happy to welcome discussions with Perth and Kinross Council and housing developers in the future."