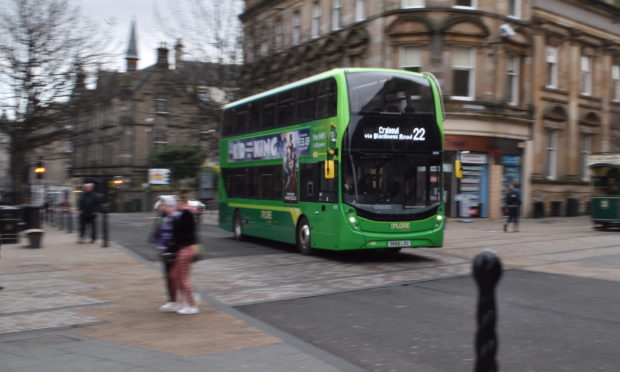 Bus firm Xplore Dundee has motored to a profit increase of more than 300% after selling its headquarters in the city.
Turnover for the firm, which is registered as the Tayside Public Transport Company, rose almost 2%, from £15.5 million in 2017, to £15.8m for the year ending December 31 2018.
Pre-tax profits leaped from £802,000 in 2017, to £3.3m last year, an increase of 316%, after selling its site in East Dock Street for an undisclosed sum.
The firm invested in 14 new hybrid buses in November last year, to replace older models and retrofitted a further seven with abatement systems meet EU standards.
A new ticketing system has also been introduced which delivers greater levels of information to customers and enables contactless payments.
Christine McGlasson, managing director of Xplore Dundee, said: "Xplore Dundee's accounts for 2018 show that we sold our East Dock Street site and we now lease our bus garage back from the property owners.
"It is a 20 year lease, so there are no immediate plans to move."
Ms McGlasson also highlighted challenges for the firm.
She said: "The bus industry remains challenging across the UK and in Dundee.
"Congestion in cities and the resultant effect on journey times needs tackled to encourage this sustainable mode of transport.
"Equally, buses are the solution to pollution.
"At the end of 2018, beginning of 2019, Xplore Dundee invested £4m in 14 brand-new Emerald buses.
"Built in Scotland, these luxury buses have free wifi and USB chargers as well as super clean engines that lower emissions in our city.
"And more of these beautiful buses will be arriving at the end of this year.
"We continue to work closely with all partners, including Dundee City Council, to make sure that travelling by bus is the best choice for more and more people in our city."
Staffing numbers at the company fell from 324 in 2017 to 312 last year, with 255 staff employed in vehicle operation, 27 engaged servicing repairs and maintenance and 30 other operational staff.
However, salaries and associated costs rose over the same period from £9.2m in 2017 to £9.5m last year.
Health and safety continued to be a key focus for Xplore and during 2108 the company continued the development of the Target Zero campaign which addresses behavioural safety.
All of the firm's buses carry either digital or analogue CCTV format systems, leading to better quality images of activity on the vehicles.
DriveCam technology to improve driving standards has also been fitted.
jimillar@thecourier.co.uk