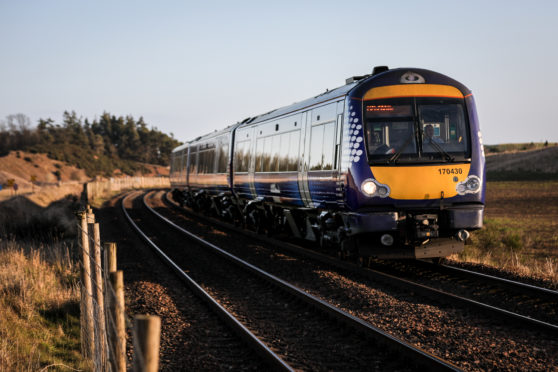 Railway lines in Tayside and Fife could be electrified to connect better with the West Coast mainline, rail chiefs have suggested.
ScotRail boss Alex Hynes and public finance minister Kate Forbes were among representatives at a discussion on the problems facing the country's rail infrastructure at an SNP fringe event on Tuesday.
Rail Delivery Group, which hosted the event, is calling for an overhaul of the country's network – including stripping outmoded "Victorian" regulations and improving ticketing options.
There are currently on average only two trains a day between Fife and Scotland's biggest city Glasgow.
Mr Hynes said it was hoped a strategic review of the country's railways would be ready by the spring. He said more needed to be done to improve the network, including improving frequency of trains to Fife and the East Coast line north of Edinburgh.
When asked how ScotRail intended to improve connectivity between towns on the east coast, in particular between Fife and Glasgow, Mr Hynes said a 15-year plan for the future was nearing completion.
"We are very fortunate that as well as the operations, maintenance and renewal budget going up by 20% over the next five years, the Scottish government also has a £200 million a year budget for rail enhancements," he said.
"We are currently studying what infrastructure we need to put in place west of Edinburgh Waverley, Aberdeen, Inverness and the West Highland line to improve the service further.
"We know the job is not yet finished. We want more electric services in Scotland and we would like to move round more of the country at a mile a minute.
"Our ambition is that by the spring we will set out a 15-year investment plan for Scotland's railway, which doesn't just set out decarbonisation plans but also delivers speed, frequency – no matter where you are in the country."
Ms Forbes said that without fully devolved powers of transport, accountability over the country's rail network would always be "half-baked".
She said: "(With devolved control) we will be able to make decisions on where and how we invest in our railways and how to ensure there is one line of accountability on our railways.
"At the moment it is a half-baked measure, with partial responsibility in Scotland and partial responsibility south of the border.
"There's huge potential for railways and wider transport policy if we have all the powers of control within our grasp."
Infrastructure is currently the responsibility of Network Rail, while the rail service is delivered by Abellio, which is responsible for running ScotRail.
A report into the UK rail network featured as part of the Queen's Speech yesterday, with the announcement of a white paper to deliver the findings of the Williams' review.
UK transport secretary Grant Shapps said passengers deserved a punctual, modern and reliable railway.
"Our priority is ensuring we have reliable trains which run on time, delivering the outstanding services communities across the country rely on," he said.
The Williams Rail Review, a root and branch review of Britain's railways, was commissioned by former transport secretary Chris Grayling in September 2018.
It was established to look at the structure of the whole rail industry and the way passenger rail services are delivered.