Business leaders gathered for Dundee and Angus Chamber of Commerce's inaugural International Dinner – demonstrating the strong links between the city, Scotland and the rest of the world on St Andrew's Day.
The high profile soiree at the Malmaison in Dundee was one of the highlights of the Chamber's International Week, which has seen a variety of masterclasses held in recent days with speakers such as Wendy Alexander, vice-principal of the University of Dundee; Fredrick Häggblom of Sweden's Agenda Retail, and Justin Reid, from TripAdvisor, discussing strategies for internationalising businesses, reaching more customers and better equipping local businesses for global markets.
Mr Häggblom said he had been delighted to see developments in Dundee first hand.
"There's a lot of enthusiasm and if you'd seen it (in the masterclasses), it was almost playful, joyful – there was a lot of energy and it's been great to see," he said.
"You can almost feel the spirit when you arrive in Dundee. With so much going on, if you look to the future it's very optimistic which is very good."
The event also saw Tim Allan, president of Scottish Chambers of Commerce, update business leaders on their work at national and international levels, while Dundee City Council leader Councillor John Alexander and Colin Loveday, president of Dundee and Angus Chamber of Commerce, were also among the guest speakers.
Mr Alexander said: "I think for a number of years the city has been on an upward trajectory and we're now at the point where people are starting to see that come to fruition.
"For many years it was a plan, a piece of paper, but people are now starting to see the jigsaw puzzle pieces coming together.
"The economic progression we're going to make is not going be driven by the council, it's going to be driven by the private sector and businesses are going to lead that.
"If you speak to anybody from outwith the city in particular, people are absolutely astounded by the progress that's been made in quite a small period of time."
The International Week is part of the wider Scottish Government work by the Chamber network in Scotland to support new business-led trade missions and forge new trading alliances between Chambers here and abroad, and to contribute to shared efforts to boost internationalisation.
Alison Henderson, Dundee and Angus Chamber of Commerce chief executive, said the packed programme of events had proved hugely successful.
"We have been working hard to deepen our Chamber international connections during 2017, and are delighted to deliver a week which has seen local organisations discussing their outward global strategies alongside guest speakers from outwith Dundee and Angus sharing their expertise on how to reach global markets," she said.
"Technology is bringing customers closer than ever, businesses need to understand the overseas opportunities at their fingertips – learning from business leaders who are experts in their field has been truly inspiring.
"This also ties into our plans with partners in the Tay Cities Trade and Investment Partnership, a fledging Tay Cities Deal regional collaboration project."
Elsewhere on Thursday, Dundee Contemporary Arts played host to a 59-minute design challenge with the V&A Museum of Design Dundee, while delegates at The Quay in the afternoon were given an update on the Dundee Waterfront project, where project director Allan Watt confirmed plans to have the new look railway station building open in early spring.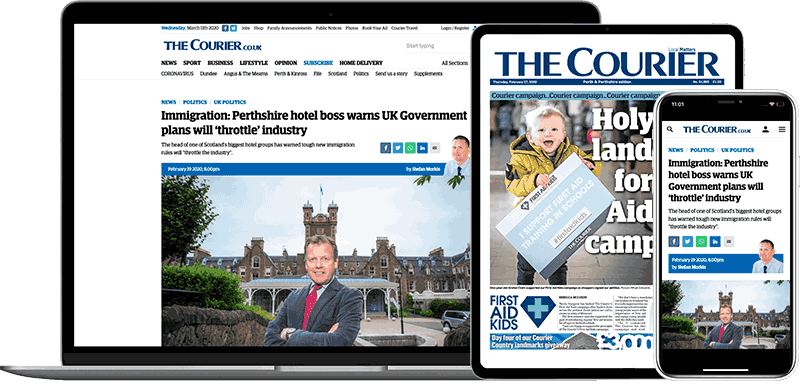 Help support quality local journalism … become a digital subscriber to The Courier
For as little as £5.99 a month you can access all of our content, including Premium articles.
Subscribe