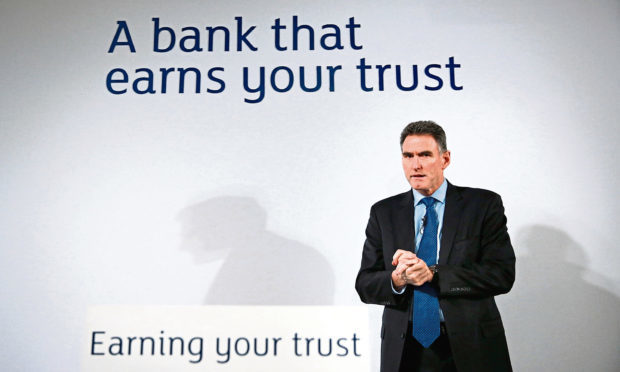 Last week I completed a rare feat.
I located a bank's high street branch, walked through the door and transacted my business without fuss or delay.
I then went into a bricks and mortar shop, found something I wanted to buy and paid for it with cash.
Those are sentences I suspect will not be capable of being written in 50 years' time given the current war on our traditional banking base and the bloodshed on our high streets.
But let's look at banking for now.
RBS chief executive Ross McEwan's recent appearance at the Scottish Affairs Committee made it clear we are into a headlong assault on the UK's retail bank network.
By the time the current round of closures at RBS is complete, its network north of the border will have shrunk to 100-odd branches.
It is worthwhile remembering this reduction in amenity comes at a time when the state owns – but is apparently happy not to influence – RBS.
Bank of Scotland – whose parent group also received a bailout but which is now back in private hands – and others have also been cutting their cloth.
The industry argues that changing consumer habits – in the form of fewer people using banks and an increasing numbers doing their banking online – is forcing their hands.
But that is cold comfort if – as I was at the weekend – you are in Carrbridge in the Highlands with a very intermittent internet connection and the closest physical bank branch is more than 10 miles away in Aviemore.
That is not a convenient situation for visitors, residents or businessses trying to make a living in a semi-rural area.
Handily, RBS gives a rundown of its reasoning behind each branch closure.
They make for interesting reading.
According to RBS, Aberfeldians – I hope that's the correct term – did not complain about their bank branch being withdrawn.
Curiously, despite their apparent disengagement, residents did take to the streets to protest – as The Courier duly reported in January.
Similarly, the closure of Pitlochry branch – which is slated to happen tomorrow – led to no complaints from the local community.
There were, however, 72 enquiries – 16 more than Aberfeldy generated – about the Pitlochry closure.
The main themes of the Pitlochry 'enquiries' were concerns that alternate ways of banking were not suitable for customer needs, the area is blighted by poor broadband and mobile reception, confidentiality issues and the burden on the local Post Office of it taking on increased banking work.
How some of these enquiries do not fall into the "expression of dissatisfaction" where the complainant fears or has suffered financial loss, material inconvenience of material loss – RBS's defintion of a complaint – I do not know.
What I do know is that cutting branches is financially expedient for RBS and others right now.
What remains to be seen is whether customers will take these changes on the chin or vote with their feet.
Banks understand money – and a very quick way of getting their attention is to make their pockets that little lighter.