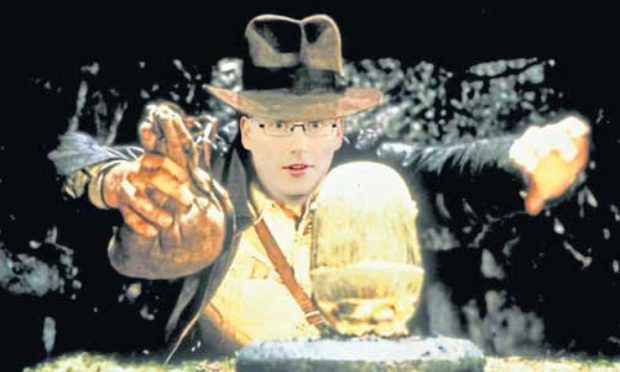 On Friday night I found myself having to do a heroic, Indiana Jones-style lunge to avoid being trapped in a shop in Dundee's Overgate.
Okay, I may be (slightly) overplaying the Raiders Of The Lost Ark reference, but it was only 5.57pm and I hadn't quite expected the shutter to be falling on the evening so soon.
Shortly after my great escape I found myself in the main concourse, trying to work out how to get back to the car.
The route to the car park was blocked by another shuttered door and, once again, I was on the wrong side.
I had to leave the centre to locate an exterior entrance to the car park in a rather dingy location. It was no great issue in the grand scheme of things. But at a time when the high street is so hugely pressured, it was also not the greatest of experiences for someone who wanted to spend money and then, perhaps, grab a bite to eat.
I'm sure the detailed footfall analysis has been done and there's good reason for the enforced 6pm shutdown. But, just as the weekend should have been getting into full swing, shoppers were being sent for an early bath.
The Wellgate closes even earlier – at 5.30pm – and it is the same end point at Perth's St John's Centre, the Mercat in Kirkcaldy and Arbroath's Abbeygate.
In Edinburgh and Glasgow, shoppers have more time to part with their cash.
Waverley Mall, the St Enoch Centre and Buchanan Galleries are all open to 7pm and, to me, it is no coincidence their night-time economies are more vibrant than we see here.
On Monday I attended a preview evening for an impressive new restaurant, Brassica, to open in the former arcade space below the Caird Hall. Two things were evident: the size of the investment by the restaurant's owners in bringing forward a new high-end dining experience and the physical scale of the dining space.
Like any business, it will need support to survive. That's bums on seats. But the footfall in that area – and across the wider Dundee city centre – at night is, understandably, not huge. Brassica's owners are taking a calculated gamble it will spike when the V&A finally opens its doors this year.
I sincerely hope it works out and other businesses in the area also get a boost as visitors flock to the area.
But what my Indiana Jones experience showed is a more joined-up approach is needed to ensure shoppers, diners and workers have multiple reasons to stay in town after dark.
A convenient and attractive offer is key if people are to spend their cash.
Metaphorically, we must take visitors by the hand and show them the sights.
I appreciate that's not an easy thing to stitch together but the potential pay-off of making life a little easier for consumers may well be worth the effort in the long-term.