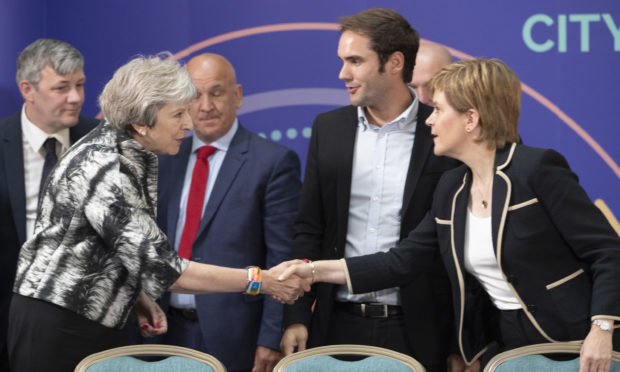 When I heard the prime minister was heading for Edinburgh during the Fringe, I naturally thought she'd be playing it for laughs by giving Brexit: Omnishambles its debut on the comedy circuit.
The mess this country has found itself in since the historic Leave vote in 2016 may not be funny but it is laughable and its retelling would certainly raise a titter or two among the audiences of the Scottish capital.
But, in fact, Theresa May had hightailed it north of the border for a different reason – to complete sign- off of the £1.2 billion Edinburgh and South East Scotland City Deal with First Minister Nicola Sturgeon.
A total of £300 million each has been pledged by the two leaders in a move expected to spark a further £600m of private sector investment. Target areas for funding include space technology, health sciences, agri-tech, robotics, housing and transportation – and there will be a new concert hall to boot.
That's great, but it made me reflect on the state of our counterpart deal.
Edinburgh agreed heads of terms for its City Deal almost exactly a year ago and it has taken those intervening months to get the financing package over the line.
Despite all of the talk, Tay Cities hasn't even taken the first step down the road to full sign-off.
The Tay bid was first submitted in the spring of last year, yet we have had no concrete progress thus far.
I am assured plenty is going on behind the scenes but the heads of terms needs to be signed before the next stage of the process – the important part that actually triggers the release of funds – can begin.
Various timescales for sign-off –including the end of July – have come and gone without pen being put to paper.
With every day, week and month that goes by, nervousness about the fate of the Tay Cities Deal within the local business community has grown.
Worse still, the opportunity for it to become a political football becomes ever greater.
The investment numbers contained within the Tay Cities Deal package – something around £700 to £800m would be my best guess – may fall massively short of the £1.8bn originally envisaged but is still transformational for our economy.
Given all of the localised efforts to reawaken this region from its post-industrial slump, this is cash this region not just needs but deserves.
But if the Edinburgh experience is anything to go by, the Tay Cities Deal may still be months – if not years – away from the money taps beginning to flow.
That's no laughing matter as this under-invested region needs that cash to unlock much-needed new jobs.
Whatever the sticking points may be with the head of terms, the deal team and our political overlords need to push past and find a solution.
And then move to full sign-off and project delivery as soon as possible.