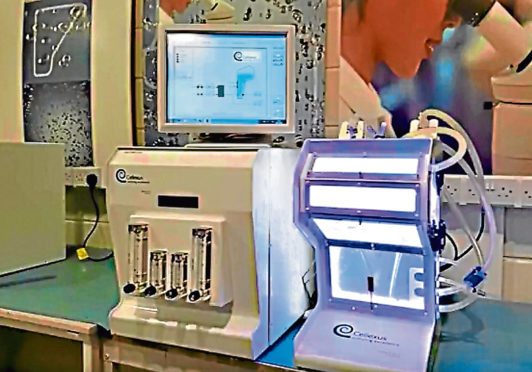 Dundee biotech company, Cellexus International are extending their international reach by scaling up their distributor network.
The move comes as the company takes their CelllMaker bioreactor range to a global market.
The firm's products provide a growing environment for cell lines and bacteria, with a range of applications including food use and the life sciences sector such as microbial research and animal health.
Crucially, the growing environments used in the equipment are disposable.
Gavin Hands, chief executive officer of Cellexus International, said: "We have been very picky over the past eighteen months in selecting distributors who won't just put our bioreactors in a catalogue, but will actively engage with customers.
"We have had the first batch of distributors at our facility in Dundee and we will have trained ten by the end of the year.
---

---
​
"Our distribution network now covers Sweden, Denmark, Norway, Spain, Austria and Israel.
"We are also in discussions with another distributor to cover Holland, Belgium and Luxemburg.
"There have also been a number of enquiries from as far afield as Sri Lanka and Columbia.
Mr Hands said that the firm, which was founded in 2017, currently has a team of six at their Riverside Court facility, but are aiming to more than double that figure next year.
The firm's hardware is constructed in the UK, but the disposable growing environments are manufactured in the USA.
Mr Hands added the units, which sell at between £35,000 to £50,000, are ideal for small life-sciences firms that are looking to scale up their operations.