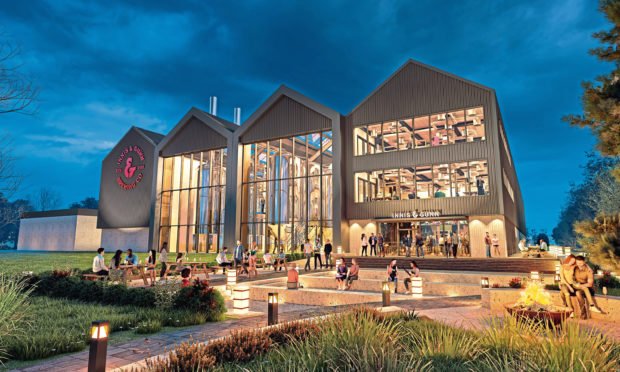 Scottish beer firm Innis & Gunn yesterday committed to the future of Perth's Inveralmond Brewery as it launched a crowdfunding campaign for a new Edinburgh production facility.
The craft beer companya is looking to raise £3 million to help finance the building of the largest brewery in Edinburgh for more than 150 years.
Despite the increase in capacity when the new brewery opens in 2021, Innis & Gunn said it would be business as usual for Inveralmond Brewery, which it acquired in 2016.
The Inveralmond Place operation is mainly used by Innes & Gunn to brew its experimental limited edition beers, as well as the Inveralmond range, which includes Ossian and Lia Fail.
A company spokesman said: "The Inveralmond Brewery will continue to do what it does best – brew great cask ales, limited edition barrel-aged beers, and high value small run products.
"It is also our incubator for small scale experimentation.
"Bottling, canning and kegging is currently outsourced from Inveralmond, so our new larger brewery will enable us to bring that in-house and help reduce the complexity and cost of production there too.
"The new brewery will create opportunities for our brewers to work in both sites."
There will be no impact on staffing numbers in Perth.
The new brewery will create around 30 jobs and give Innis & Gunn the opportunity to offer brewing services to others for the first time.
The firm is offering equity of just under 2% in the £3m crowdfunding campaign, valuing the firm at £149.8m.
Founder and master brewer Dougal Gunn Sharp said: "At this time of division, doom and gloom, the originality and inclusivity of the Innis & Gunn brand and business is a shining light of optimism that bring people together in celebration of great beer.
"This is the opportunity of a lifetime – to be part of the project to build Edinburgh's first large-scale brewery in over 150 years.
"By investing in Innis & Gunn Beer Money, you will be helping to create a new legacy for our brand and for brewing in Edinburgh, and Scotland, that will last a lifetime.
"We've enjoyed 16 years of uninterrupted growth, expanded into over 30 countries and we've got a very exciting journey ahead of us."
Accounts for the year ending December 31 2018 show the firm's sales rose by more than £2m to £21.3m while it recorded a pre-tax loss of £1.2m.
rmclaren@thecourier.co.uk