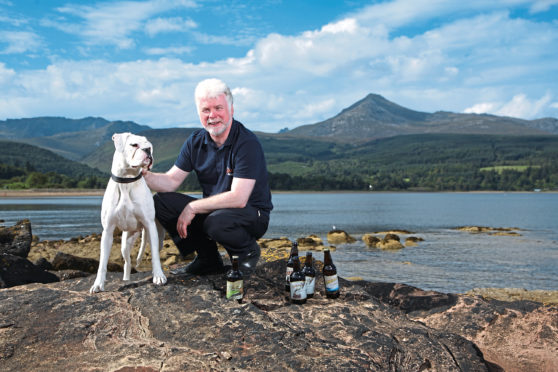 A firm which produces a million bottles of beer a year has selected Perthshire as the location for a new cider brewery.
Arran Brewery has establishing the facility at Loch Earn Brewery & Hotel at St Fillans in Perthshire.
The firm plans to produce a range of four ciders which will hit the shelves in February.
Managing director Gerald Michaluk said production started earlier this month – a lot later than he anticipated.
"We should have been up and running two years ago but we had a small fire in one of the bedrooms and unfortunately the insurance company still hasn't paid out and that scuppered our plans somewhat," he said.
"We have an ideal shack at the hotel that reminded me of a US western style cider shack.
"We built a road up to the back to drop off the apple juice and tanks inside so we can blend local fruit. We've got bottling there – it's a nice self contained unit.
"The company has long looked at cider and it's difficult to do in Scotland because consistency of apples is a big issues. We've managed to find a source and we are confident we'll find enough apples now."
Mr Michaluk said he plans to produce around 14,000 bottles in the first year and increase production if it is successful. The cider will be produced in 1,000 litre batches.
The range will include fruit blends including blackcurrant, strawberries and raspberries, with the produce sourced from Perthshire.
"I think there's a strong market for cider generally. In Scotland we tend to drink cider from overseas but I think people would prefer a Scottish cider if they had a choice.
"We are looking at one of the supermarkets getting an exclusive for a little while on some of the cider.
"The fruits are really well balanced with the cider.
"We have a limited supply of juice, 7,000 litres, but if it's successful then we will look to get more juice next year."
Meanwhile Mr Michaluk is in talks about selling a large stake in Loch Earn Brewery & Hotel.
Earlier this year, he said he planned to sell a 45% stake in the business which would allow the business to get a reduction in the amount of duty it pays.
He said: "We've got two interested parties they've not signed on the dotted line both of which would add considerable benefit to us and allow us to not have to pay full duty. It's strategically very important to us."
rmclaren@thecourier.co.uk