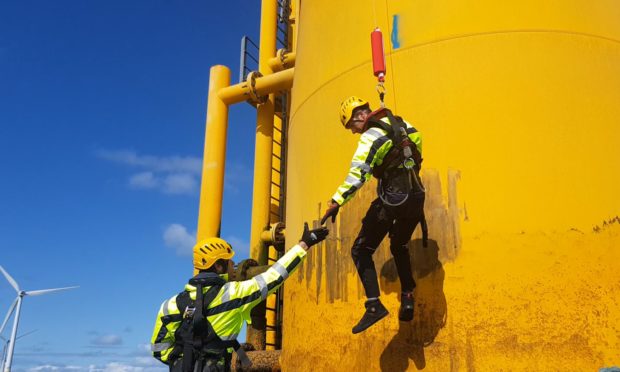 Technology developed by a Fife firm that's been used on the stages of international superstars is set to revolutionise access to offshore wind turbines for maintenance personnel.
Pict Offshore – a joint venture between Orsted, a major player in the offshore wind sector, and Limpet Technology, who specialise in the development of powered rope access and lifting systems – has developed a motion compensated personnel hoist for use in the demanding offshore environment.
The partnership is the latest expansion of technology which was first brought into use to help train mountaineering enthusiasts on climbing walls.
Variations of the equipment have been used on the sets of household names including Cirque du Soleil, U2 and Adele.
However, the latest development by Pict Offshore, the Get Up Safe system, could make the transfer of personnel from smaller vessels onto turbines safer and allow work to be completed faster.
The investment by Orsted, who say that offshore wind will play a key role in the shift to greener energy, has allowed the firm to scale up to meet expected demand from the growing offshore wind farm sector, and could add up 20 high skilled jobs in the near future at the company's facility in Inverkiething where the units will be constructed.
The firm is also eyeing the export market with the product as the wind energy section continues to grow and has already attracted international interest.
When a vessel carrying personnel moves against a turbine, the system calls down a motion compensated hoist via remote control.
Two lasers on the turbine look down at the boat and mirror its movement in real time so there is no impact on the technician who clips onto the hoist and is lifted all the way up.
The system also communicates with an onshore control room where staff can see that it is working correctly.
Philip Taylor, managing director at Pict Offshore, explained: "At the moment, staff have to climb ladders up to 20 metres high and if you have to do that several times a day, then it can be physically tiring.
"Get Up Safe removes the need for ladders and associated boat landing metalwork from the side of turbines, which saves huge quantities of steel and construction costs."
The system saw off stiff competition to win the Best Innovation category at the Green Innovation Awards in Edinburgh earlier this month.
Commenting on the award, Claire Mack, chief executive of Scottish Renewables, said: "The Get Up Safe system is a great example of exactly the kind of innovation that will help drive cost savings and safety enhancement in the offshore sector."
jimillar@thecourier.co.uk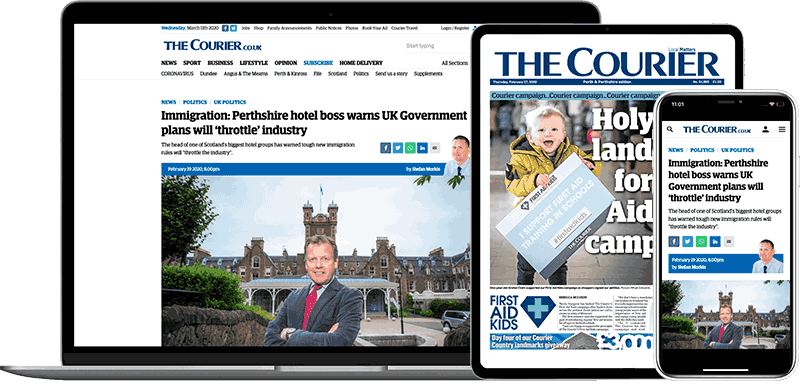 Help support quality local journalism … become a digital subscriber to The Courier
For as little as £5.99 a month you can access all of our content, including Premium articles.
Subscribe