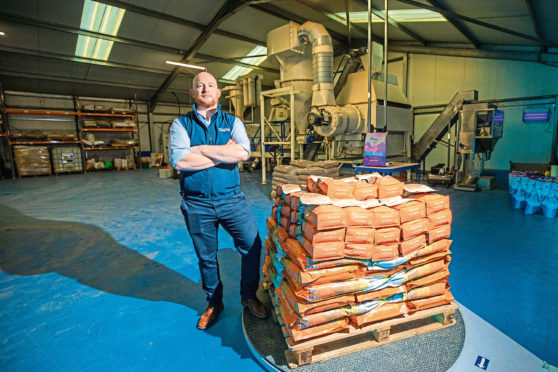 A historic pet food brand rescued from administration just two years ago has seen the number of outlets stocking its products soar from just 12 to 160 – with further expansion planned in 2020.
Perthshire businessman Craig Wallace bought the Wilson's Pet Food brand name in 2017, with an investment that saw £500,000 spent on new manufacturing equipment and rebranding the business.
Since then, Mr Wallace has led the construction of manufacturing facilities in Blairgowrie and Perth and an ecommerce platform which has seen month on month sales growth.
The Blairgowrie unit was the first purpose built facility in the UK capable of producing cold pressed dog food which is more complex to manufacture, but is healthier and produces higher quality food.
Now the firm is targeting further expansion after scooping a £50,000 award in the 2019 Scottish EDGE enterprise competition.
The money will be used to boost the firm's sales team and provide new point-of-sale units for retailers.
Mr Wallace said: "The majority of our stockists are independently owned outlets and prefer a face-to-face discussion about our products.
"With more sales personnel, we will not only extend our reach, but also pass on our passion for the high quality products we sell."
He said: "We provide 100% natural food for dogs and the cold pressed process is far more nutritious and digestible than other types of manufacturing methods which use high temperatures to manufacture.
"Our other key product is frozen raw dog food which comes in a range of flavours and we have a jerky product that is due to be released soon."
Mr Wallace said the firm had taken time to formulate its quality products but was now eyeing a period of growth.
He said: "We have doubled our turnover and are looking at recruiting a further four operational team members to support our growth."
The firm is aiming to embark on a crowdfunding round over the summer, with an eye to raising £500,000 which will be earmarked to create jobs, take more products to market and expand capacity at manufacturing sites.
jimillar@thecourier.co.uk