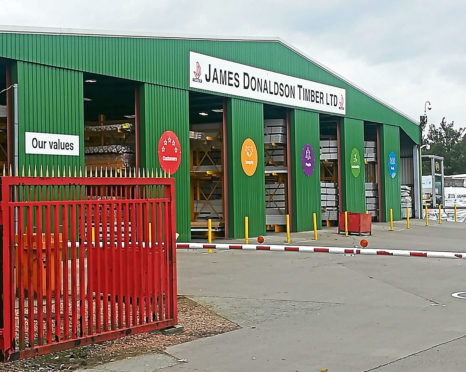 A Fife-based family timber merchanting business saw its turnover soar by more than £28 million last year.
Accounts lodged at Companies House, show James Donaldson and Sons saw revenue rise from £153.6m in 2018, to £182m for the year ending March 31 2019.
Pre-tax profit at the firm also rose, from £7.6m to £8.2m across the period, an increase of 7%.
The group's acquisition of the share capital of Cambridge Roof Truss at the end of last year has boosted the firm's aim of delivering a national service.
In the annual report for the firm, finance director Andrew Donaldson, said: "The Donaldson group of companies produced another set of excellent results for the year.
"In last year's strategic report, we highlighted the impact of global demand and the devaluation of sterling on our basic raw material costs.
"Whilst we experienced some levelling off towards the end of the financial year, raw material prices remained at record levels throughout the year."
Mr Donaldson, who will take on the role of group managing director later this year, said the overall market for the firm's products remained "strong" during the period.
But he warned that movement in imported and domestically produced raw material prices continued to put "further pressure" on profit margins.
Mr Donaldson highlighted the threat of cyber-attack as a priority for the business, with many day-to-day security measures across the company's infrastructure strengthened.
In July, the company announced that group managing director, Scott Cairns, the first non-family member to lead the group, will step down this year.
The firm was founded in 1860 by James Donaldson and his two sons, James and George.
In 1889, the company acquired a second timber yard in Leven, and in 1978 James Donaldson and Sons began to manufacture roof trusses.
Today the group is comprised of six firms and employs on average, more than 830 staff, with 509 employed in production roles.
The six businesses that make up the group trade and operate independently and are market leaders in their respective fields of timber engineering, saw-milling and distribution, merchanting, roofing and cladding distribution and laminate manufacturing.
James Donaldson was crowned Business of the Year at last year's Courier Business Awards.
jimillar@thecourier.co.uk