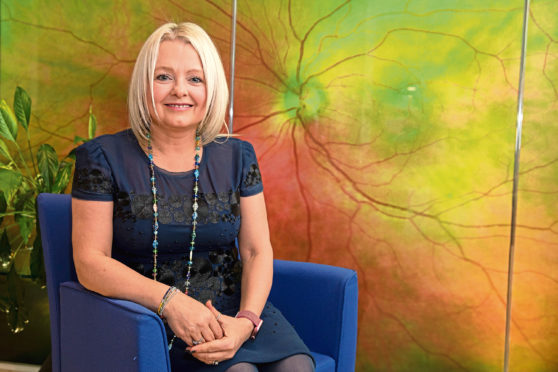 Fife medical firm Optos is hoping to revolutionise the eye care industry with a new product that can scan the outermost edges of the retina.
Headquarted in Dunfermline, Optos is the world's leading retinal imaging firm, with annual sales of more than $200 million.
The firm was founded by Douglas Anderson in 1992 after his young son went blind in one eye after a retinal detachment was detected too late.
Almost 30 years later, Optos remains the only firm that can take an ultrawide 200 degree image of the retina in a single capture.
Research and development staff in Fife have unveiled the next generation of the company's eye scanning equipment, called Silverstone, which has increased capabilities.
Anne-Marie Cairns, chief clinical officer of Optos, said: "Silverstone allows us to explore on the very far periphery.
"You can look through the layers of the tissue and detect issues that could potentially require treatment.
"For the first time you can look at the different layers of the eye to see if there are any problems.
"It will be much easier to diagnose problems and the technology is really important about saving vision in our aging population."
Optos typically manufactures between 2,500 and 3,000 devices a year in Dunfermline, where it has a workforce of almost 250 staff.
The firm, which was acquired by Japanese camera company Nikon in 2015, also has offices in Boston and Australia.
Annually around £12m is invested in research and development in Dunfermline.
"We look to lead through innovation to tackle medical problems by bringing the solution patients and clinicians need," Ms Cairns added.
"We have more than 800 clinical papers demonstrating the importance of our technology for more than 100 different diseases.
"The US is our biggest market and a study of 25,000 patients there showed our devices gave them a 90% saving in costs due to the higher rates of detection and low amounts of ungradable images.
"We are now speaking to the Scottish Government about how we can use the technology to support people in Scotland."
Ms Cairns said the new device, which was recently unveiled in America, said had created a "wow factor" among clinicians.
She said it was hoped the commercial success of Silverstone would be a boost for the firm for years to come.
"It's unsurpassed technology," she said.
"This leads for our ambitions for now and also our ambitions for the future.
"Leaders in eye care were looking in amazement at this device – it's a real technological feat of brilliance.
"We should be super proud as a company and of the difference this is going to make for patients around the world and that all the R&D was done in Fife."
The Silverstone device will launch in the UK in Spring.
rmclaren@thecourier.co.uk