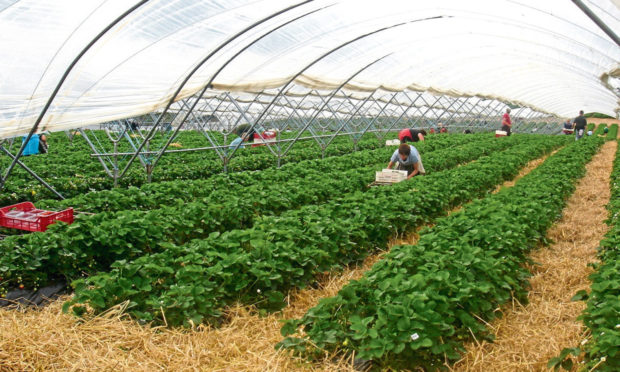 A major Perthshire soft fruit and vegetable grower has called for a Scottish immigration system to be introduced to safeguard workforce numbers in the sector.
Glencarse-based Stewarts of Tayside, which specialises in producing soft fruit and vegetables said it was facing significant recruitment challenges due to the uncertainty surrounding Brexit.
The firm, which operates from more than 3,500 acres of land at Tofthill, employs more than 400 staff.
Chairman Will Stewart said: "Recruiting staff is becoming harder, whilst there is also the uncertainty over long-term employees being able to achieve settled status.
"This is a particularly labour intensive sector and it could be devastating if we cannot source staff.
"We like to look forward and we are very nervous regarding immigration policy – I think Scotland needs its own immigration system and I don't think it would be too difficult to deliver.
"Scottish politicians have tabled reasonable proposals at Westminster, but they have been shouted out of town."
Mr Stewart said that using machinery to harvest soft fruit, including robotics, was "years away" from being ready.
Last year his business saw pre-tax profits rise from £1.4 million in 2018, to £1.8m for the year ending May 31 2019.
Turnover dipped by 1.8% to £24.2m over the period, with gross profit margins growing from 30.6% to 32.9%.
Mr Stewart said he was "very pleased with the results" but pointed to the unusually prolonged dry weather in 2018, which brought favourable conditions to control crop establishment costs with dry conditions for sowing and planting.
The conditions also contributed to a drop in crop yields, with a subsequent reduction in harvesting costs.
Mr Stewart said: "Weather conditions since October have been wetter, so this season will be a different set of circumstances."
Turnover broken down by class of business saw £21.5m in crop sales, £2.5m in the sale of services and £102,636 in other income.
Staff numbers fell slightly over the period, from 412, to 402, with 22 employed in office and management and 380 in other roles.
jimillar@thecourier.co.uk