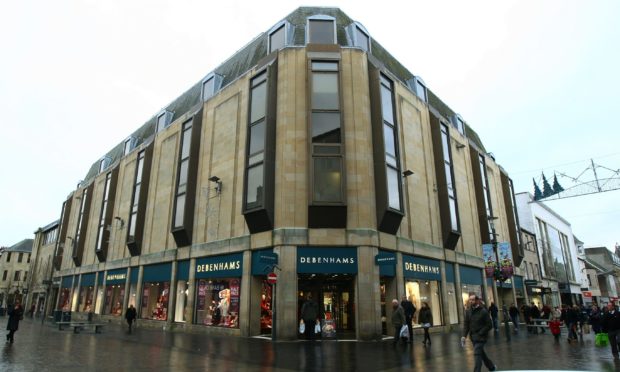 Retail giant Debenhams is on the brink of administration, causing more concern for the long term future of high street shops across Tayside and Fife.
The department store, which has outlets in Perth, Dundee and Dunfermline, announced on Monday its notice of intent to enter administration in a bid to protect the business  which was forced to shutdown its 142 UK stores due to coronavirus.
However the chain was trouble before the outbreak, closing its Kirkcaldy store at the beginning of the year.
Debenhams claim that by appointing administrators they are protecting the business  from the threat of legal action which could have pushed it into liquidation.
Despite reassurances from the retail giant's bosses, politicians across the region believe the development will still be a worrying time for staff who are currently furloughed.
Douglas Chapman, SNP MP for Dunfermline and West Fife, has called for a rescue package from the UK Government.
Mr Chapman said: "Debenhams is a prominent feature for Dunfermline's shoppers and a major employer in the town and so if it were to close, it would have a devastating impact on people in the area and small businesses in the town who benefit from the footfall Debenhams brings."
Murdo Fraser, Conservative MSP for the Mid Scotland and Fife, said: "This is very sad news – particularly for staff at Debenhams.
"Even before the coronavirus outbreak, these were difficult times for retail shops, but they have just been made much worse.
"I hope that the Debenhams stores in Perth and Dunfermline can be saved – these are significant flagship retail presences in both high streets.
"It would be a huge blow to both communities if these stores were to be lost."
Pete Wishart, SNP MP for Perth and North Perthshire, feared the impact of another flagship retailer closing in the Fair City, following Beales and Gap.
Mr Wishart said: "Given the number of recent high profile store closures in Perth, it is vitally important that we do what we can to help save the Debenhams site.
"Staff will be very worried already and I will seek to work with the administrators and all relevant organisations to ensure that everything possible is done to ensure the future of the store in Perth."
Stefaan Vansteenkiste, CEO of Debenhams, said he was expecting "additional funding" to bridge them through the "current crisis period.
He said: "These are unprecedented circumstances and we have taken this step to protect our business, our employees, and other important stakeholders, so that we are in a position to resume trading from our stores when government restrictions are lifted.
"We are striving to protect jobs and reopen as many Debenhams stores for trading as we can, as soon as this is possible."