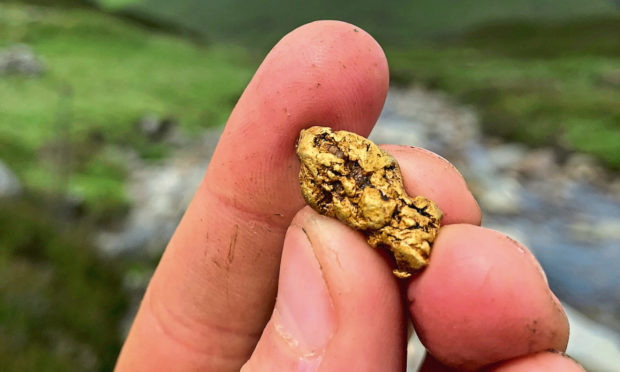 Shares in a mineral exploration firm soared yesterday after it unveiled "highly encouraging" sampling results from its Perthshire operation.
Erris Resources and Green Ore plc entered into an option agreement in December last year to explore for gold across a licence area of more than 237 square kilometres in Loch Tay.
It followed the discovery of a 10 gram gold nugget by a Leeds University team in the area last July.
The results confirmed the two highest grade gold results to date and have led the company to believe the Loch Tay area has the "potential to host significant gold mineralisation."
From 118 collected samples, 30 had more than 0.1 grams of gold per tonne, 13 had more than one gram of gold per tonne, while nine samples had between five grams and a maximum of 17.15 grams of gold per tonne.
The firm added that prospecting and mapping operations had been halted temporarily due to the Covid-19 restrictions, however this had allowed further review of historic reports, papers and data relating to the Loch Tay project and regional geology.
Lineament analysis has also been carried out using free satellite imagery to identify potential structures relating to mineralisation during the Covid-19 lockdown period.
Erris Resources chief executive David Hall said: "These are highly encouraging results and reveal a large mineralised system in the Lead Trial and adjacent areas.
"The current restrictions have allowed the team to review all the data and that of the Grampian Gold Belt that includes the nearby Cononish mine and the Curraghinalt deposit in Northern Ireland.
"We clearly see common characteristics in geochemistry, structure and mineralisation style that lead us to believe that the prospects in the Loch Tay area have the potential to host significant gold mineralisation."
jimillar@thecourier.co.uk