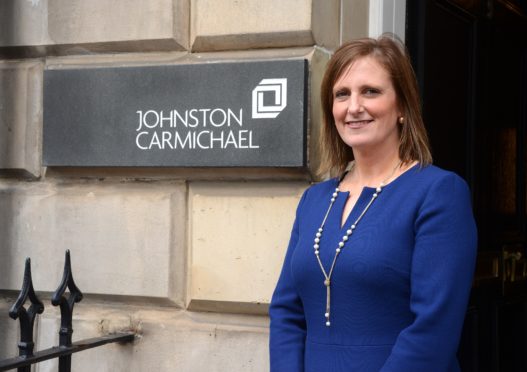 Businesses must revisit their strategies but stay with their core values as the economy emerges from the acute phase of the Covid-19 pandemic, said a Dundee-based accountancy and business advisory firm.
Johnston Carmichael established a base in the city just over 12 months ago and has grown a customer base across industry sectors such as technology, food and drink and agriculture.
Jenn Stewart, head of Johnston Carmichael's Dundee office, said she expected companies in Tayside to recover strongly out of the pandemic.
She said: "If our experience from the last 12 months tells us anything, it's that the sense of community in Dundee will hold it in good stead through the recovery phase.
"The City of Discovery is no stranger to adversity and the blend of industries that form the backbone of the Tayside economy are likely to see opportunities to move forward as the restrictions begin to lift.
"Over the last few months we have seen businesses have both the worst of times and the best of times.
"There is no crystal ball to predict what happens next, but we are already seeing more and more companies begin to move out of survival mode and into the next stage of recovery as the government measures come to an end.
"It's important for businesses to revisit their strategy and stay true to their core values in order to prepare well for the new normal.
"That means looking at how they can reopen safely or, if they are already back to work, how they can get production back to pre-Covid levels in the current circumstances, implementing new working practices to improve efficiencies."
Founded in 1936, Johnston Carmichael has grown to become the largest independent firm of chartered accountants and business advisers in Scotland.
Sir Pete Downes, former principal and vice-chancellor of The University of Dundee and a leading figure in the pharmaceutical industry, is an adviser to the firm.
Ms Stewart said the move to Dundee had been a success, with the firm warmly welcomed by the business community.
"It has been an absolute whirlwind of a year, but we now really feel part of the business landscape in Dundee," she added.
"We were very clear when we opened an office in the city that we wanted to truly immerse ourselves in the community. I think that is exactly what we've done, and we've been welcomed with open arms."
jimillar@thecourier.co.uk