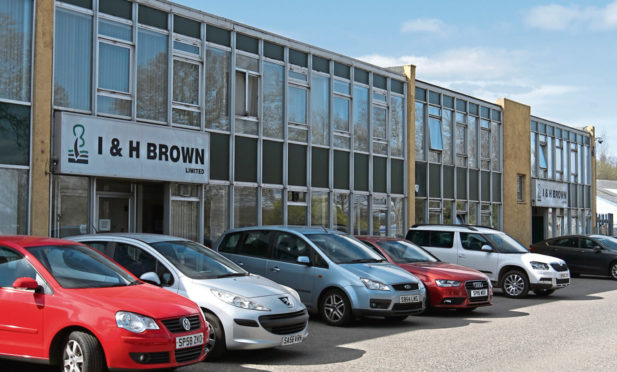 Perth-based developer and civil engineering group I&H Brown shrugged off difficult trading conditions in England to record a £60 million turnover last year.
Expansion into new geographical territories south of the border saw losses on some key contracts where the firm had used temporary staff.
The move saw the firm change the management structure of its English arm, with greater control from the Scottish office personnel.
Newly filed company accounts showed sales of £59.8 million for the year ending September 1 2019 compared to £39.5m in 2018.
Pre-tax profits were reported at £180,000 in 2019, compared to £277,000 in 2018.
Managing director Scott Brown said the business had continued to trade well in 2020 despite the impact of Covid-19.
He anticipated 2020's turnover at around £55m with an upturn in profits.
"The lockdown due to Covid-19 experienced during March to June resulted in significant losses despite the UK Government furlough relief measures," he said.
"However, our workload has been excellent which has allowed us to bounce back in July with a diverse range of projects being carried out for highly respected clients including, Springfield, Ineos, Suez, Hargreaves Land, The City of Edinburgh Council and Murray Estates.
"Our next six months secured workload has never been better sitting at £28m."
The firm's Dundee development at East Kingsway has seen two sales, including one parcel of serviced development land to retailing giant, Lidl, who have completed construction of their outlet.
Following the sale of land at North Dunfermline, to housebuilder Persimmon Homes, the firm's development division has completed a further sale of land to Bellway Homes.
Mr Brown added: "North Dunfermline is a large strategic expansion which is largely in the control of I & H Brown.
"Work is ongoing here in conjunction with Fife Council to agree the phased construction of a new primary school to allow further development parcels including affordable housing to be completed."
During the reporting period, the company employed an average of 205 staff, with 99 in management and administration roles and 106 drivers and operators.
The firm was founded in 1964, originally as a plant hire operation which moved into sub-contracting before becoming a civil engineering main contractor in the mid-1970s.
The company introduced an energy division to its portfolio in 1985, with an initial focus on opencast mining, but has since moved into renewable energy.
jimillar@thecourier.co.uk
1
For as little as £5.99 a month you can access all of our content, including Premium articles.
Subscribe