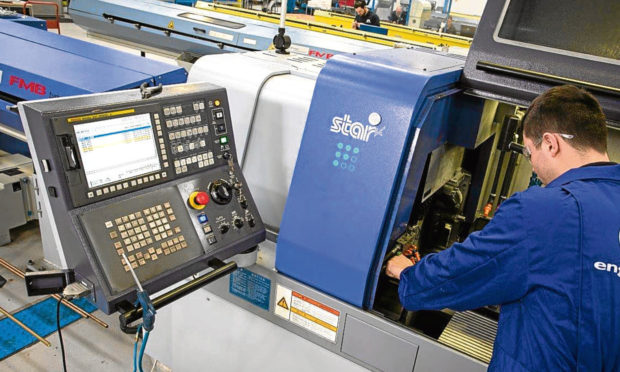 The oil price collapse has led to a round of redundancies at a Dundee firm.
GA Engineering Scotland has laid off 10 members of its workforce following the fall in global energy demand.
Located at West Pitkerro Industrial Estate, the business produces large CNC turned and milled components up to 900mm in diameter that are predominantly for downhole and subsea equipment in the oil and gas industry.
The redundancies reduce the company's workforce to 43 staff.
Parent company Pryme Group, also headquartered in Dundee, said the business was in a better position to weather the impact of the Covid-19 pandemic following significant restructuring and cost reductions undertaken to improve profitability.
Chief executive Kerrie Murray said: "GA Engineering Scotland has noted a decline in orders, given that it largely services the oil and gas market.
"However, the restructuring has ensured the business is better placed to meet the challenges of the market downturn."
Pryme Group also counts GA Engineering Sliding Head, located in a separate site in the same Dundee industrial estate, among its interests.
The integrated manufacturing solutions group also has three facilities in England and owns SengS in Ellon, Aberdeenshire.
Newly filed company accounts show the group's revenues rose to £18.5m for the year ending March 31, compared to sales of £17.3m last year.
Pre-tax losses narrowed from £7.9m in 2019 to £5.9m last year while gross profits, before administrative expenses, increased from £2.6m to £3.3m.
Ms Murray, who was appointed CEO in June, added: "With the advent of the Covid-19 pandemic post year-end, Pryme Group swiftly adapted its operational sites and working practices to ensure safe continuity of operations and delivery of its backlog commitments entering financial year 2021.
"We also restructured our operations in anticipation of lower activity levels, particularly from oil and gas-based customers.
"We believe that with the restructure and diversity of the customer base across multiple industrial sectors, the group has enhanced its resilience level for what is expected to be a challenging market as the economy continues to recover."
Pryme said it had taken steps to preserve short-term liquidity, including utilisation of the UK Government Coronavirus Job Retention Scheme.

It also received a Pivotal Enterprise Resilience Fund Grant to GA Engineering Sliding Head to support working capital requirements.
Last year Pryme Group invested more than £700,000 in new machinery and invested around £1.9m on research and development.
Ms Murray added: "GA Engineering Sliding Head invested in state-of-the-art inspection equipment at the end of March, which has increased production and improved efficiency."
'Limited headroom' for companies to weather the storm of oil price collapse