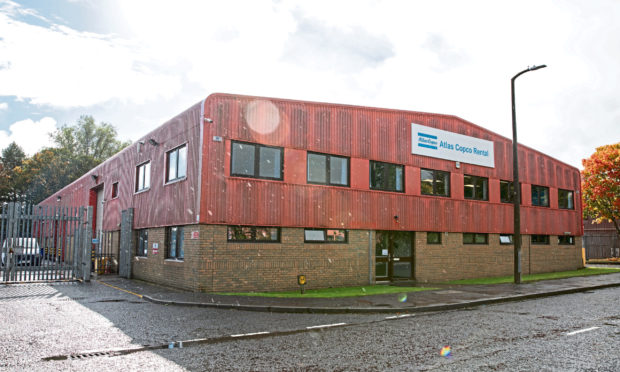 Turnover at a major industrial equipment rental firm fell by 6% as demand from the oil and gas sector fell.
Atlas Copco, which has an offshore rental facility at West Pitkerro Industrial Estate in Dundee, saw turnover fall from £140 million in 2018, to £131m for the year ending December 31 2019.
However, pre-tax profits rose by 110%, from £3.2m to £6.8m, over the period.
The firm services a range of sectors including manufacturing, mining, automotive and construction industries.
It offers a portfolio of products including diesel and electric compressors, generators, lighting towers, pumps, industrial tools and assembly systems.
The company has three main business areas: Compressor Technique, which focuses on air compressors and industrial gas equipment; Industrial Technique, which manufactures tooling and assembly equipment, including electric and pneumatic assembly tools; and Power Technique, which provides a core range of products for industries including construction and oil and gas exploration.
Headcount at the firm fell by 22 to 457, with 118 employed in management and administration roles and 339 in production and sales. The wages and associated salaries bill for the period was £24m.
In the annual report, director Kevin Price said: "The profit for the year 2019 from continuing operations was £7.1m compared with a 2018 profit of £1.4m, which was heavily affected by a goodwill impairment of £8m.
"The decrease in revenues is mainly due to unfavourable conditions in the oil and gas market for compressed air equipment.
"The rental division showed very strong results for 2019, turnover increased 18% compared to 2018, while the operating profit margin remained stable, with the industrial rental segment performing above expectations and the new offering of steam boiler rental adding to the turnover.
"Power Technique turnover increased by 4% despite the business environment being somewhat suppressed due to Brexit uncertainty in the rental and construction sectors.
"This was due to a strong order-on-hand position at the start of 2019."
The firm was founded in Sweden in the late 19th Century and established a division in the UK in 1919 – its first foreign expansion and the firm's oldest customer centre in continuous operation outside Scandinavia.
A number of recent acquisitions expanded the company's UK footprint, with Tentec in 2013, Henrob in 2014 and Edwards in the same year.
A further acquisition, Walker Filtration, was made in 2018. Last year Atlas Copco discontinued its medical division and agreed to transfer its medical division to Walker Filtration via a net asset transfer.
Last month, the firm agreed to acquire US automated metrology products supplier Perceptron for $69m.
Henrik Elmin, head of Atlas Copco's business area Industrial Technique, said: "Through Perceptron's position in automated metrology and robot guidance, together with the recent acquisition of Isra Vision, we are creating a strong offering in machine vision solutions."
The proposed cash deal, approved by Perceptron's board and supported by its biggest shareholder, is expected to close in the fourth quarter subject to majority approval by Perceptron's shareholders and regulatory approvals.
Perceptron is set to become part of a newly created division within its Industrial Technique business area.
The company also bought German machine vision group Isra Vision ISRG.DE earlier this year in a $1.19 billion deal.
Atlas Copco recently appointed Peter Kinnart as senior vice-president and chief financial officer.
Mr Kinnart joined the firm in 1993 in Antwerp and has held several positions at the company in Belgium, Germany, Spain and Switzerland.
He will assume his new role in July next year.
The firm's UK HQ is in Hemel Hempstead and the group services clients in more than 180 countries around the world.
The company's ultimate parent and controlling party is Atlas Copco AB and the immediate parent company and controlling party is Atlas Copco UK Holdings Limited.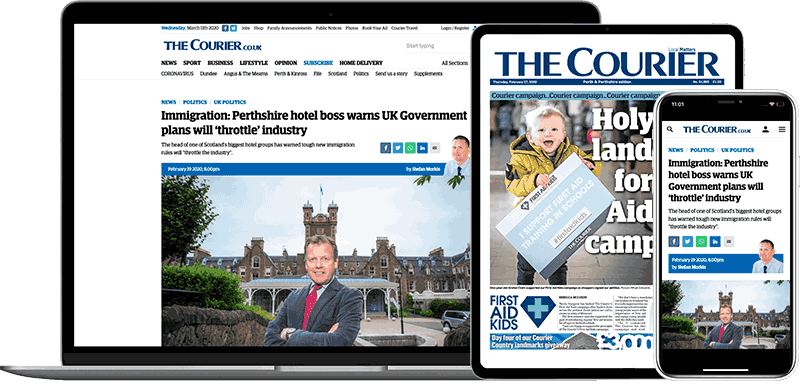 Help support quality local journalism … become a digital subscriber to The Courier
For as little as £5.99 a month you can access all of our content, including Premium articles.
Subscribe