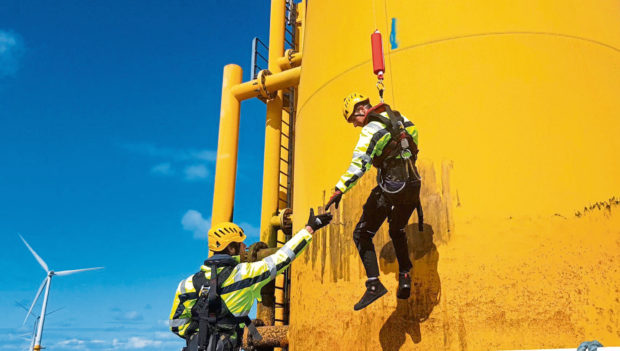 AFife firm that developed a safer access system for personnel to use on offshore wind turbines has landed a multi-million pound contract.
Pict Offshore developed a motion compensated personnel hoist allowing technicians to transfer on and off turbines without the need for access ladders and boat landing metalwork on the bases of turbines.
Green energy firm Orsted signed the deal which will see Pict Offshore's Get Up Safe (GUS) motion-compensated lifting system deployed at the Hornsea Two offshore wind farm.
Each system will be manufactured at the firm's Inverkeithing facility.
With 165 wind turbines, the Hornsea Two will become the world's largest offshore wind farm on completion in 2022.
It will be the first ever offshore wind farm to deploy the GUS system and will remove the need for boat landing infrastructure and ladders on the turbine's foundations – reducing the amount of steel required on each turbine.
Using the equipment, which won an innovation award at the prestigious Scottish Green Awards in December, technicians are lifted and lowered directly between crew transfer vessel and the platform.
When a vessel carrying personnel moves against a turbine, the system calls down a motion compensated hoist via remote control.
Two lasers on the turbine look down at the boat and mirror its movement in real time so there is no impact on the technician who clips onto the hoist and is lifted all the way up.
The system also communicates with an onshore control room where staff can see that it is working correctly.
The design removes the need for technicians to step between the bow of the vessel and the ladder – a potentially dangerous operation that requires skilled co-ordination to be carried out safely during variable weather conditions.
The technology also boosts productivity by eliminating the need for personnel to physically climb up turbines, which can be up to 20 metres in length.
Pict's Managing Director, Philip Taylor, said: "With this deployment, Orsted is living up to its reputation as a visionary renewable energy player.
"The decision to deploy the GUS system at Hornsea Two is a bold and transformative move designed to both increase safety and reduce costs for the next generation of offshore wind farms.
"With other offshore wind developers now taking a strong interest in the system, we hope that it's a vision that will be shared by the industry".
Pict Offshore was formed in 2019 and is a joint venture between Limpet Technology and Orsted, the world's largest developer of offshore wind farms.
Headcount at Pict Offshore has grown substantially, with a total six staff initially, growing to 14 at the beginning of this year, to a current payroll of 29.
Head of low carbon transition at Scottish Enterprise, Andy McDonald, said: "It is great to see Pict Offshore reach the next stage of progression to produce hoists for the offshore wind industry and in turn provide a shift change solution for wind operators in terms of delivering safer and cost effective means of transferring personnel.
"It is fantastic to learn this will be deployed at Hornsea Two and in turn highlight Scottish innovation on an international scale."