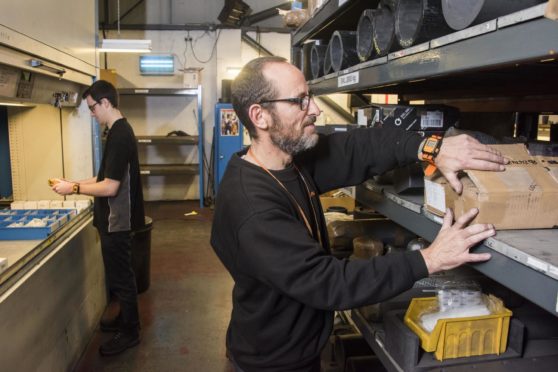 A Dundee manufacturer has changed its layout and processes after using smart tech to precisely track the movement of its workers.
Rautomead, based at the Wester Gourdie Industrial Estate, was one of the first in Scotland to start using Reactec's wearable technology which issues a warning if employees get too close.
The continuous castings manufacturer introduced the system in May to help it comply with social distancing guidelines.
The wrist-worn Safe Distance device gives audio, vibratory and visual warnings when it comes within two metres of another device.
It automatically gathers data to a hosted database with analytics that allow employers to manage their employees' social distancing behaviour at work and inform contact tracing if and when needed.
Rautomead managing director Brian Frame said: "It is an additional and important protection tool as part of our Covid-19 mitigation strategy.
"It has been adopted very successfully and effectively by our on-site employees and is used in conjunction with the more standard Covid-19 protection measures.
"The online analytics have also highlighted the need to modify a few layouts and processes, and to monitor and manage our interactions in a more controlled and safe way."
More than 10,000 Safe Distance devices are now being used in the UK, principally within manufacturing, construction, rail and local authorities.
Edinburgh-based Reactec adapted its technology – which was previously used to monitor vibration when using power tools – after the onset of Covid-19.
Chief executive Jacqui McLaughlin said: "Having developed the Safe Distance system, we want to see it in as many workplaces as possible to help companies to continue to operate – ensuring their staff stay socially distanced while they keep the economy going."