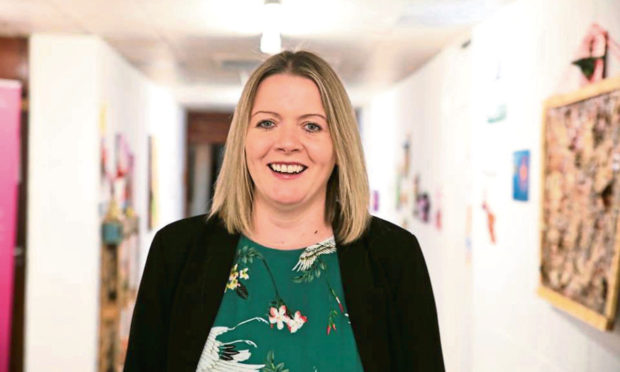 "What's important is the results delivered rather than the number of hours people work."
A Dundee employer has moved to a four-day working week to help staff cope with pressures brought by Covid-19.
Staff at The Circle will remain on full pay but will be given an extra "rest day" every week.
The Circle, which has a workforce of 10, gives support to "more than profit" organisations such as charities and social enterprises and also acts as landlord at its large premises in Staffa Place.
Founder and chief executive Kirsty Thomson said: "I've always wanted to have a working week that's not a traditional nine to five but based on people's individual lives and needs.
"During lockdown there were more opportunities for the team to pull together virtually but people were exhausted, mental health issues were starting to creep in, so I'd say take a Friday off, take a Monday off. I saw how hard everyone was working.
"Meanwhile, I heard negative things about other people's workplaces – people having to clock in, produce time sheets. That sounds like a horrendous environment when we're in a pandemic.
"What's important is the results delivered rather than the number of hours people work."
Last month Ms Thomson spoke to her staff about her plans to implement the change at the start of October.
Her approach follows the national Four Day Week campaign, which recommends working eight hours for four days a week.
She said the experiment would run until Christmas, but anticipates the new system will continue.
"We are only a few weeks in but in terms of what we're delivering I've not seen any change," Ms Thomson added.
"The team have said it's allowing them to be more focused when they are working.
"There may be times when they might have to put in a little bit extra on the days they are working, but they are happy to do that for the extra day off.
"It means people are able to get some of their personal tasks done during the week instead of the weekend – I think anybody would be grateful of that.
"Given everything that's going on, I feel people are juggling so many priorities right now.
"We need to make sure work is not adding another stress to that person's life."
The Circle has helped secure around £250,000 for its tenants and members of its training programme, The Circle Academy.
This year it moved its training programme online and also delivered a new project to provide activity packs to children in deprived areas of Dundee.
Ms Thomson said she would like to see more companies try the move to a four-day week.
She added: "We aim to be a pioneering force within our sector and beyond.
"We hope to see more organisations implement reduced working days and other measures to support staff wellbeing."
Staff member Jenny McCarthy said: "In just a short space of time this new initiative has made a big difference in the team.
"We have an extra day to focus on our wellbeing and we're achieving so much because we're more motivated and energised."