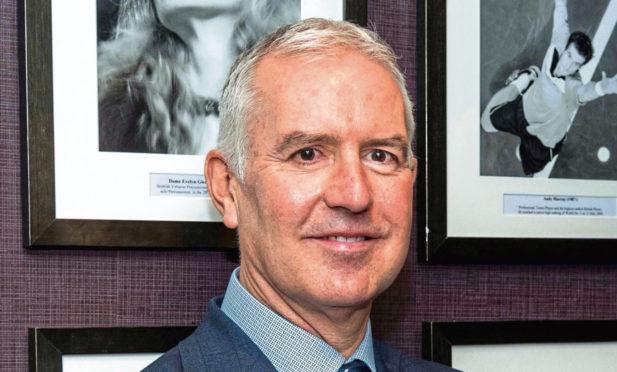 Chartered surveyors DM Hall said post-lockdown property activity has been "like a dam burst" as pent-up demand has seen a surge of interest from prospective buyers.
Senior partner Alan Gordon said the property market has proved to be extremely resilient and has "behaved very well" since lockdown has eased, with no obvious sign of a slowdown beyond expected seasonal fluctuations.
The firm has a number of offices throughout Tayside and Fife.
Mr Gordon spoke as the firm's annual report showed a slight increase in turnover to £15.8 million for the year ending December 31 2019, up from £15.7m the previous year.
Profit before members' remuneration and profit shares fell from £2.7m in 2018, to £2.4m last year.
He said: "Market sentiment last year was quite negative generally with uncertainty around Brexit and a general election, so it was a bit of a bumpy ride.
"Markets like stable economic, political and constitutional environments and we didn't really have that last year."
Mr Gordon said along with other firms, the first 11 weeks of 2020 had delivered a very strong start with a lot of market activity, short marketing periods and good prices as a result of previous consumer caution in 2019.
However, when lockdown was announced, the restrictions had seen the firm hit a wall which had effectively sent the firm into an emergency mode.
He said: "We couldn't go into properties to carry out surveys, so to a large extent the tap was turned off for our income from late March to late June.
"During that period, we used the furlough scheme for more than 90% of our staff and essentially put the business into a hibernation state in order to manage costs, but also planned for emerging from lockdown and made use of existing technological capacity that has been under utilised previously.
"When restrictions were eased, we expected the market to be quite tentative initially.
"However, it quickly became apparent there was an enormous demand that had built up and as soon as selling agents were able to get people into properties there were scores of people lined up to do viewings – the market has gone nuts."
Mr Gordon said the Tayside and Fife areas have followed a national trend where people are looking at not being office-based all the time and less likely to make a daily commute.
He said: "People are looking to move from cities to larger premises in different towns and the country, while we are also seeing demand from people moving from other parts of the UK to Scotland.
"Demand is across almost every sector including commercial and residential, with a particularly strong demand for rural and agricultural properties.
"However, sentiment has been weaker for retail, office, leisure and hospitality properties for reasons that are probably obvious."
Mr Gordon said the firm, which has around 250 staff and 24 partners, had brought back employees from furlough and was confident about the future.
"We are not intending to shrink our physical office space at all and we are always looking to develop and diversify," he added.
"We are also keen to keep investing in young surveyors and we have a number of people in the pipeline. The fact is, we are creating graduate-level jobs in towns across the country."