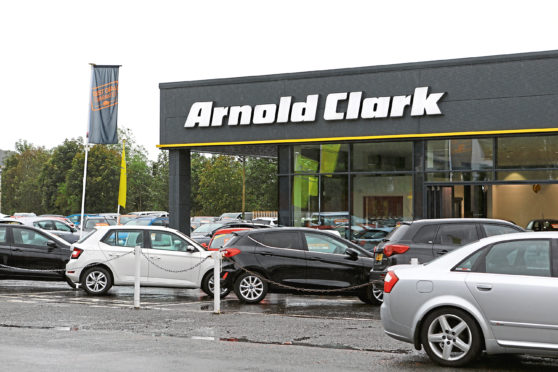 Scotland's biggest new and used car retailer said swift action to mitigate the impact of Covid-19 saved it £100 million earlier this year.
In accounts lodged at Companies House, Arnold Clark also insisted actions it has taken to cut costs have left it with "substantial" headroom between its cash-flow forecast and resources it has available through to December 2021.
There is now a "reasonable expectation" of the company's ability to continue trading "for the foreseeable future".
Glasgow-based Arnold Clark – controlled by Lady Philomena Clark, whose late husband Sir Arnold founded the business in 1954 – said mitigating actions it took after Covid hit business from the end of March included the temporary furloughing of about 12,000 employees and taking advantage of deferred tax payments and a business rates "holiday".
The firm also struck a deal with hire-purchase funding providers to defer monthly instalments that were due between April and June, allowing it to offer revised terms to contract-hire customers.
A freeze on staff recruitment, fewer vehicle purchases and restricted non-essential expenditure helped to keep costs down.
Arnold Clark, which has also increased provisioning levels to reflect a possible reduction in the future value of stock, added: "The impact of these mitigating actions is estimated to
have reduced our cash outflows in the period to the end of May 2020 by £100m."
The company declined to comment yesterday on its 2019 accounts – showing increased profits and turnover – or current trading.
But in his annual review, chief executive Eddie Hawthorne said: "Covid-19 and its ongoing impact dominates our daily lives.
"Restrictions which the government implemented on the movement of people and trading activity to contain the virus had an immediate adverse impact on economic activity.
"It is now clear the two greatest challenges we face are the well-being of our customers and staff, as well as the cash-flow impact arising from the temporary closure of our retail sites.
"It is not clear how widespread or long-lasting the situation will be, but our priority is to make sure our workplaces are as safe as possible."
He added: "Following the temporary closure of our retail sites, with no substantive revenue generation and carrying close to normal levels of used vehicle inventory, it was essential to minimise further net cash outflows and a range of mitigating actions were implemented.
"The financial strength of the group provides a very solid foundation in terms of our net funding position.
"The board has concluded that the business has sufficient cash and other resources to deal with the challenges in the year ahead."
He said 2019 delivered "another excellent full-year performance for the group" despite challenging market conditions for the UK motor industry and wider retail sector.
Revenue grew by 5.3% to £4.5 billion, with pre-tax profits increasing by £3.5m to £117m.
The increase in revenue was primarily driven by used car sales, which were up by 7.3% to 256,376 units.
New car sales fell by 7.4% to 63,310 units, reflecting a decline in the UK-wide market.
Arnold Clark boasts 200 dealerships, 150 service centres, 40 accident repair facilities and 13 parts sites around the UK.